Thunder Bay Travel Guide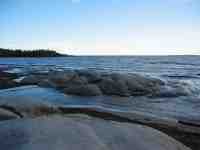 Lake Superior © Kevstan
Thunder Bay, located on the Trans-Canada Highway, is in the heart of Native American country. This city is the western terminus for the St Lawrence Seaway. The Seaway is the system of locks, channels and canals that connect the Great Lakes to the Atlantic Ocean, an important system of waterways for international trade, but also a playground for recreational boating activities.
This rugged, rocky north region is home to the shores of Lake Superior. Lake Superior is a popular attraction to enjoy when in Thunder Bay; the largest of the Great Lakes of North America, this vast expanse of water offers visitors a brilliant rugged shoreline and breath-taking wilderness to enjoy. Here visitors can discover deep chasms, plunging waterfalls and towering granite cliffs carved by the ancient glaciers.
A nature-lover will find themselves immersed in Thunder Bay; there are untold numbers of lakes, rivers and forests in the region, which is a fisherman's paradise, a history buff's haven, an artist's inspiration and a delight for naturalists.
Become our Thunder Bay Travel Expert
We are looking for contributors for our Thunder Bay travel guide. If you are a local, a regular traveller to Thunder Bay or a travel professional with time to contribute and answer occasional forum questions, please contact us.