Toronto Travel Guide
Why? A holiday in Toronto provides non-stop adventure for tourists with its distinct, compact neighbourhoods, each offering something different, from the summer cultural festivals along the harbourfront to the gaudiness of the Yonge Street strip or the Victorian houses of Cabbagetown. A Toronto holiday is full of surprises, from the top of the lofty CN Tower to the rainforest of the Ontario Science Center.
When? The best time to travel to Toronto is during the summer months, when the weather is pleasant for exploring on foot and the city comes alive with outdoor events. Winters in Toronto are bitterly cold, but if you choose a Toronto holiday in the chilly months the underground shopping malls will provide plenty of entertainment without having to brave the elements.
Who for? Anyone and everyone will find plenty of memorable experiences on a Toronto holiday. The city is also an ideal getaway for families.
More Info: To get an idea of what you can enjoy on a Toronto holiday, and to find all the information you need to plan a holiday in Toronto, make use of our Toronto travel guide which is updated regularly. The guide features details of events, attractions, excursions and public transport in the city, as well as restaurant recommendations.
---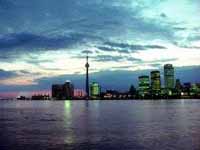 Toronto skyline ©
The most heavily populated city in Canada, Toronto is a vibrant and cosmopolitan city; the country's financial, commercial and cultural centre with a rich multi-cultural heritage of more than 80 ethnic groups, speaking more than 100 languages. It has a lively stock exchange, soaring futuristic architecture, museums, art galleries, performing arts companies, fine restaurants, large shopping complexes, a waterfront and hundreds of parks.
The city is situated on the north shore of Lake Ontario, and sports distinctive neighbourhoods as well as the longest street in the world, Yonge Street, as its main north-south artery. Toronto's main landmark is the CN Tower, which is the world's tallest free-standing structure with glass-fronted elevators that rise 1,815ft (553m) to indoor and outdoor observation decks. The city also boasts the 'Skydome', which is a multi-purpose entertainment complex with a retractable roof, billed as the world's greatest entertainment centre.
In the 17th century Toronto was a small French colony; then came the American Revolution which encouraged scores of British loyalist families to flee north. Many settled beside the lake establishing a town known as York, which slowly grew in importance as an administrative and manufacturing centre. In 1834 the name was changed to Toronto, an Indian word meaning 'meeting place'. The new name proved worthy when about a century later the city's English character began to be buried beneath the conglomeration of cultures brought in by a massive tide of immigrants from all corners of the world. Old English pubs and Victorian and Edwardian architecture survive among the skyscrapers, but Toronto is today a lively and cosmopolitan city and Canada's commercial capital.
It does get pretty cold over the winter months of November to March so if you are averse to chilly weather plan your visit over the mid-year period. Toronto just might be the destination that has it all - reason enough to visit and enjoy what has been described as Canada's 'world within a city.'
Become our Toronto Travel Expert
We are looking for contributors for our Toronto travel guide. If you are a local, a regular traveller to Toronto or a travel professional with time to contribute and answer occasional forum questions, please contact us.