United States of America

---

---

---

---
Portland Oregon Travel Guide
Portland Oregon travel Forum
---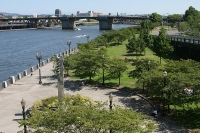 Tom McCall Waterfront Park, Portland © Cacophony
The city of Portland, situated at the navigable head point of the Willamette River, was the major port on the American Pacific northwest coast during most of the 19th century. Although not the capital of Oregon, it is the largest city in the state and its commercial centre straddles the Willamette River with neatly planned city blocks.
Portland is today recognised as a fun city for tourists, essentially designed for outdoor living with miles of wilderness trails, woods and waterways within the city limits, all set against the backdrop of the Mount Hood glacier, with its well-loved ski resorts less than an hour away.
The city is known for its stunning gardens, particularly the International Rose Test Garden where many thousands of rose bushes from around the world thrive and bloom. Roses form the centre of the city's Rose Festival in June, just one of the many unique events that fill Portland's annual calendar. The other most popular event is the Oregon Brewers Festival, held annually in July, which celebrates the dozens of local micro-breweries, vineyards and distilleries in heady style.
A further attraction of Portland is its superb cuisine and exceptional dining opportunities. The region is renowned for its seafood, berries, pears, hazelnuts, wild game and fresh vegetables, which are all put to good use by some inspired local chefs.
All things considered it is not surprising that Portland is rated as an ideal place for modern travellers to stop and smell the roses.
Become our Portland Oregon Travel Expert
We are looking for contributors for our Portland Oregon travel guide. If you are a local, a regular traveller to Portland Oregon or a travel professional with time to contribute and answer occasional forum questions, please contact us.