Asunción Travel Guide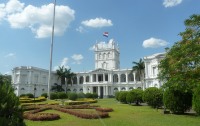 Although Asunción lacks traditional tourist attractions like distinctive geographical landmarks, sandy beaches, or significant monuments, it has its own kind of charm for those on holiday in Paraguay. The downtown area is as dirty and dilapidated as you might expect of a former South American police state, with peeling colonial and beaux-arts buildings dotted with interesting museums and a few scattered monuments, and chaotic traffic belching exhaust on crowded streets.
Yet Asunción has a lively spirit, and though its suburbs lack the old-world colonial look of the downtown area, they boast shopping malls, good restaurants, and lively nightlife, especially in the northeast towards Villa Morra.
Sightseeing in Asunción is pleasantly accomplished on a sunny day with a walking tour of the downtown area; key sights include the Versailles-style Palacio de Gobierno the National Cathedral, the Casa Viola museum and the Botanical Gardens. The Mercado Quatro is a whole neighbourhood of market space, and is a great place to buy souvenirs in Asunción.
The political, cultural, and economic heart of Paraguay, Asunción is worth a visit of several days. It also makes a great base for excursions to Ciudad del Este and Iguazu Falls, which is located only 201 miles (324km) away on the border of Argentina and Brazil.
Become our Asunción Travel Expert
We are looking for contributors for our Asunción travel guide. If you are a local, a regular traveller to Asunción or a travel professional with time to contribute and answer occasional forum questions, please contact us.