Philadelphia Travel Guide
Philadelphia travel Forum
---
Why? A holiday in Philadelphia is a delightful exercise in exploring the city's many diverse districts, from the Old City where the Liberty Bell takes pride of place and the city centre filled with shopping malls and museums, to the Italian-flavoured South Philly and the trendy, arty district of the North Liberties. History and a lively student population combine to ensure a Philadelphia holiday is a busy buzz.
When? No matter what time of year you travel to Philadelphia there will always be a plethora of attractions to visit and a lively event or two to join in with. In spring the city is bedecked with spectacular cherry blossoms, and summer, especially around 4th July, is especially festive with many celebrations centred in the historic district. In autumn the cultural calendar is in full swing with numerous concerts and theatrical productions. In winter it can be very cold, but this is a good time to travel to Philadelphia to take advantage of the city's excellent shopping.
Who for? Regarded as one of the nation's most dynamic destinations, a holiday in Philadelphia offers enough to please any age group.
More Info: With so much to see and do it is vital to plan well before you go on a Philadelphia holiday. Make use of our Philadelphia travel guide, which is full of information about public transport, attractions, excursions, events and the weather in this exciting city.
---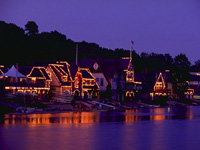 Boathouse, Philadelphia © Pennsylvania Tourism
Over the years numerous taglines have been coined to apply to America's most historic city, Philadelphia. It has been called the 'Athens of the Americas', the 'city of brotherly love', 'the friendliest city', the 'most honest city', 'the safest city' and, most recently, 'the city that loves you back'. Fabulous 'Philly', fifth largest metropolis in the United States, is all these things and more, which is why it is regarded as one of the world's most dynamic destinations and the happy home of more than three million people.
The city is sensibly sited 60 miles (97km) inland from the Atlantic coast on a protrusion of land at the merging of the mighty Delaware River and the Schuylkill River, land granted to William Penn, an English Quaker, back in 1682. Penn's vision was to establish a 'green countrie towne', but because of its location controlling the Delaware Valley and its good freshwater port facilities, Philadelphia soon outgrew its original boundaries and by the 18th century was the second largest English-speaking city in the world.
Today Philadelphia draws tourists mainly for its historical wealth, centred around Independence National Historical Park, regarded as the most significant historic square mile in America where the United States was conceived, declared and ratified. The Constitution of the United States was written here in 1787 and the city was the nation's first capital between 1791 and 1800.
Philadelphia is also a shopper's paradise, featuring the world's largest mall, as well as offering some of the finest dining establishments in the country, thousands of acres of beautiful parkland, attractive boulevards where street fairs and parades are common events, and a vibrant arts and entertainment community. In short, to add to all its other tags, Philadelphia can justifiably be said to offer something for everyone.
Become our Philadelphia Travel Expert
We are looking for contributors for our Philadelphia travel guide. If you are a local, a regular traveller to Philadelphia or a travel professional with time to contribute and answer occasional forum questions, please contact us.