Pittsburgh Travel Guide
Why? Set between rivers and sprawling across seven hills, a holiday in Pittsburgh offers a plethora of leisure and pleasure options in a city that was built on the blood, sweat and tears of hard labour. Filled with a hodge-podge of ethnic neighbourhoods and guarding some cultural treasures, a Pittsburgh holiday is crammed with things to do and see, from an 18th century French fortress to the National Aviary.
When? The best seasons to travel to Pittsburgh are during spring and autumn, when the weather is pleasantly mild. Summers tend to be marred by uncomfortable heat waves, while winters are bitterly cold.
Who for? Culture vultures particularly enjoy a holiday in Pittsburgh, which sports world-class museums, theatres and the famed Carnegie Library. A Pittsburgh holiday also appeals to anyone interested in industrial history and architecture.
More info: Plan your holiday in Pittsburgh with the help of our comprehensive Pittsburgh travel guide, which is packed with detailed information about the many attractions and events in the city, and an overview of public transport. The guide can be printed out and packed to take with you on your Pittsburgh holiday.
---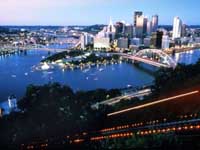 Pittsburgh from Mt Washington © Pennsylvania Tourism
Built by hard-bitten immigrants who were drawn to her steel mills, the city of Pittsburgh is now sitting back on its laurels and offering a more leisurely and aesthetically pleasing lifestyle to residents and visitors alike. Once dubbed 'the Smoky City', Pittsburgh's mills have closed down and the emphasis now is on making the most of the city's natural beauty. Pittsburgh is finally doing justice to its situation, lying between the Ohio, Allegheny and Monongahela Rivers with the Allegheny Mountains in the background. No wonder the city and environs now boasts the largest concentration of pleasure boats in America, while its thriving ethnic neighbourhoods surround a clean, friendly metropolitan centre filled with trees, shops, restaurants, museums, galleries and theatres. Attractions abound in this scenic city from the world's fastest continuous track roller-coaster to the largest single-artist museum in the United States; and from an eerie Gothic mansion to free summer concerts in a beautiful park.
Become our Pittsburgh Travel Expert
We are looking for contributors for our Pittsburgh travel guide. If you are a local, a regular traveller to Pittsburgh or a travel professional with time to contribute and answer occasional forum questions, please contact us.