Arequipa Travel Guide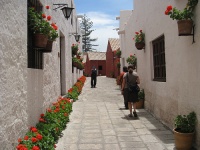 Arequipa © feserc
Arequipa is also known as the 'White City', and it's characterised by the many beautiful colonial buildings made from a locally-mined light-coloured volcanic stone. Its elegant historic centre is endowed with some of the country's finest colonial churches and mansions, many of which have been turned into museums or galleries.
The second largest city in Peru, Arequipa is one of the country's most attractive cities, situated among white-capped volcanic peaks; however, Peruvians will tell you that a conceited manner of self-importance pervades the atmosphere of Arequipa, earning the inhabitants a reputation for snootiness towards the rest of their countrymen. Of course, travellers may find that the pride of the locals is fully justified! A strong and very tangible rivalry exists between the capital city of Lima and Arequipa.
The beautiful Plaza de Armas, with its gardens and central fountain, is the focus of urban life and evening social activities, framed by impressive colonial arcades and architecture and the elegant white façade of the huge cathedral. One of the city's highlights is the remarkable Santa Catalina Convent, a complex enclosing a complete city within a city, and one of the country's most fascinating colonial religious buildings.
Besides the architecture and museums, the countryside around Arequipa holds many attractions for the visitor, including the relatively easy climb up the El Misti volcano. The Colca Valley offers superb landscapes, with agricultural terraces and snow-covered mountains, villages with narrow streets and ornate churches, and the dizzying Colca Canyon, twice as deep as the Grand Canyon and an excellent place to see the giant condors.
Become our Arequipa Travel Expert
We are looking for contributors for our Arequipa travel guide. If you are a local, a regular traveller to Arequipa or a travel professional with time to contribute and answer occasional forum questions, please contact us.