Cajamarca Travel Guide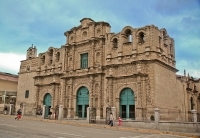 Santa Catalina Cathedral, Cajamarca © tehzeta
Cajamarca is often called the 'Cuzco of the North', and it's considered one of the best tourist destinations in Peru's northern highlands. The town has a major advantage over Cuzco however, in that it has maintained its small-town atmosphere and Andean traditions, and isn't overrun with tourists. Cajamarca is known as the city where the Inca Empire came to an end, at the bloody Battle of Cajamarca in 1532. The steps on Santa Apolonia Hill lead up to the famous Inca Seat, from which Incan leaders would address their subjects. There are several other archaeological sites around the city, including the pre-Colombian Cumbe Mayo aqueduct, the pre-Incan necropolis of Ventanillas de Otuzco, and the monoliths and museum of Kuntur Wasi.
The pastoral region around Cajamarca is very fertile, and produces some excellent dairy products, including cheese, ice-cream, and chocolate, that are available in abundance in town. The attractive city centre is full of colonial buildings, centred around the Plaza de Armas. There are around a dozen beautiful churches, as well as stately mansions from the 17th and 18th century.
The Incan Baths are natural hot springs located in the town of Baños del Inca, roughly three miles (5km) east of Cajamarca. The ruins of Incan baths are still visible; however, the town is centred around a modern spa that uses the thermal springs to draw its water. The water contains a surprising number of minerals, and the baths are used as a homeopathic treatment for some bone diseases.
Cajamarca is located 8,900 feet (2,700m) above sea level, so tourists should take the time to acclimatise themselves to the thinner air. It is advisable to allow at least one day of relative inactivity, while staying hydrated and avoiding alcohol and caffeine.
Become our Cajamarca Travel Expert
We are looking for contributors for our Cajamarca travel guide. If you are a local, a regular traveller to Cajamarca or a travel professional with time to contribute and answer occasional forum questions, please contact us.