Davao Travel Guide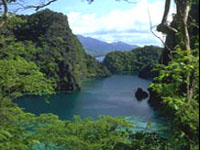 Forest scenery ©
Davao is the gateway to the southern Philippines, a hub of commerce, industry and transportation (sea and air) in the southern Mindanao region. Although as an urban metropolis Davao has little to recommend it, the attraction of the city is its accessibility to a beautiful surrounding rural landscape of hills and fertile valleys, dominated by the massive 9,692ft (2,954m) Mount Apo, a dormant volcano that is the Philippine's highest mountain peak. Among the valleys live the ancestral tribes of the Philippines, like the Bagobo, Manobo, Mandaya and Bilaan, with their rich and colourful cultural heritage, ethnic art and handcrafts.
Davao is centre of the Philippines fruit- and flower-growing region, and an annual festival (the Kadawayan Festival) is held in August to celebrate the bounty of the fields and the different tribal cultures. The region is also home to the endangered Philippine Eagle, and the rare Vanda Sanderiana orchid. Like the rest of the Philippines, of course, the Mindanao region and its many islands also offer thousands of tropical beaches and dive sites, most accessible only by the most intrepid of adventure travellers.
Become our Davao Travel Expert
We are looking for contributors for our Davao travel guide. If you are a local, a regular traveller to Davao or a travel professional with time to contribute and answer occasional forum questions, please contact us.