Warsaw Travel Guide
Why? Although it does not offer the charm and aesthetic beauty of other Eastern European capitals, it is well worth taking a holiday in Warsaw to admire the measure of human determination and achievement encompassed in this Polish city, which was well-nigh obliterated and left virtually uninhabited by the end of World War II. Today it has risen like a phoenix from the ashes, and development is still proceeding apace. The historic Old Town, rebuilt brick by brick, is the focus of attention for those who travel to Warsaw.
When? Warsaw has a long tourist season: take a holiday in Warsaw any time between April and October and the weather should be good enough for sightseeing. Mid-summer is the most popular time to travel to Warsaw, for this is when there are several classical and jazz music festivals taking place. The bitterly cold, snowbound winters are best avoided, unless you travel to Warsaw to head off to one of the Polish ski resorts.
Who for? Those interested in World War II will find plenty to fascinate them, not only in the museums, but also in the very streets of Warsaw. It is not really a city aimed at modern fun-seekers, but there is a fairly jolly nightlife scene and some good boutique stores for shoppers.
More Info: To find all the information you need to plan a holiday in Warsaw consult our Warsaw travel guide, which is updated regularly and can be printed out to take with you when you travel to Warsaw.
---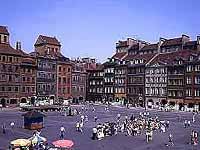 Old Market Square, Warsaw © Polish Tourist Board
As the capital of Poland, Warsaw was one of the most beautiful and sophisticated cities in central Europe until it was almost totally destroyed during the Nazi occupation of World War II. The end of the war saw most of the city reduced to rubble and ruins, and the large swathes of the population had either been killed or interred in Nazi concentration camps.
The city underwent a major regeneration following the havoc of destruction, and the buildings in the heart of the old city were meticulously restored. Most of the historic Old Town was painstakingly rebuilt from a pile of debris, restoring it to its original 17th and 18th Century appearance. The charming Old Market Square, the centre of the rebuilding process, is now a major World Heritage Site attraction.
Warsaw is divided into two distinct halves by the Vistula River, with the Old Town, the modern city centre and most of the attractions on the western side. The eastern side of the river is comprised of uninteresting residential suburbs and business districts. The post-war appearance of Warsaw is a modern urban landscape of high-rise buildings, and the years of communist rule have left an uninspiring architectural legacy of drab concrete structures and uniform prefab-style housing. Dominating the skyline is the city's major eyesore: the massive shape of the Palace of Science and Culture, Stalin's bequest to Polish citizens.
Lying in determined contrast to the concrete greyness are traces of Poland's grand past, including castles and palaces, open parklands, impressive churches and the restored streets of the historic old centre. Signs of former political austerity have been replaced by modern progression, with dreary state shops turned into fashionable boutiques, and consumerism a growing trend.
Although many people give scant regard to Warsaw as an appealing tourist destination, it is still Poland's largest city and the political, economic, scientific and cultural hub of the country. It has many museums and historical monuments, galleries and historic attractions, a variety of restaurants and open-air cafes, and an energetic nightlife. With green open spaces and classical music concerts, this modern bustling city is a far cry from the severe communist-era images of post-war Warsaw.
Become our Warsaw Travel Expert
We are looking for contributors for our Warsaw travel guide. If you are a local, a regular traveller to Warsaw or a travel professional with time to contribute and answer occasional forum questions, please contact us.