Lisbon Travel Guide
Why? There are numerous reasons why thousands of people choose to holiday in Lisbon. These include its charming historic downtown, two mega-casinos, fabulous food, unique music, lively nightlife, elegant shopping boutiques, museums and art galleries galore, and lovely beaches within easy reach. During a Lisbon holiday there is literally never a dull moment.
When? High season for a holiday in Lisbon is a long one, the weather being inviting and clement from spring right through summer to the autumn months, with warm days often continuing right through to November. Even if you travel to Lisbon in winter you will find it mild, rather than cold, but there is often rain in winter.
Who for? With plenty to do and see a holiday in Lisbon is well suited to all ages and people of all interests. Culture vultures particularly enjoy the city's galleries and history buffs travel to Lisbon to explore its many monuments and architectural heritage.
More Info: Find your way to and around Lisbon with the help of our comprehensive Lisbon travel guide, which is updated daily and can be printed or emailed. This useful guide contains detailed information about attractions, excursions and events as well as vital tips on communications, health, safety, and transport.
---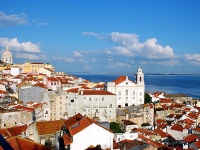 Lisbon © McPig
The capital of Portugal has experienced a renaissance in recent years and has reclaimed its rightful place as the 'golden city' of southern Europe. After slumbering for decades, the city's modern, vibrant and cosmopolitan identity is today much similar to that which it enjoyed in the 15th and 16th centuries during the age of the great discoverers, when Lisbon was the centre of trade with the East and the starting point for maritime exploration of the globe.
The city fathers of Lisbon elected to invest in some rejuvenation in the 1990s, and this ongoing focus on the future has made the most of the city's attributes and attractions, both old and new. Infrastructure has also been improved, with additions like the impressive Vasco da Gama Bridge across the River Tagus, which links the city's airport to a network of national motorways and has facilitated access to other parts of Portugal. There is also a new showcase railway hub, the Gare de Oriente, which is the pride of a new modern suburb on the east bank of the Tagus, creating an even better link between Lisbon and the rest of Europe.
While much is new, there is plenty of the old left to charm visitors, giving the metropolis a slightly provincial air. The delightful, picturesque medieval section of Alfama skirts the city's Sao Jorge castle, and historic wooden trams ply noisily up and down steep hills past art deco cafes and mosaic-decorated pavements. Many of the relics of the city's golden age were destroyed in an earthquake in 1755, but some survived and are popular tourist attractions, complemented now by modern sights, like the futuristic Oceanarium.
Within easy reach of the city are the sandy beaches of several coastal resorts, such as Costa da Caparica, Estoril and Cascais, as well as the forested areas of Sintra and attractions like the extraordinary Mafra monastery. The mood of Lisbon is light and bright, confident, fresh and avante garde, ready to welcome the world to the doorstep as one of the great capitals of Europe.
Become our Lisbon Travel Expert
We are looking for contributors for our Lisbon travel guide. If you are a local, a regular traveller to Lisbon or a travel professional with time to contribute and answer occasional forum questions, please contact us.