Madeira Travel Guide
Why? Although a holiday in Madeira, the beautiful Portuguese island in the Atlantic, is designed for fun in the sun, there are actually no beaches. This is made up for by all the stunning resorts, which sport their own swimming pools, and the fact that the island is wonderful for walking through the verdant beauty of its landscape.
When? Most choose to holiday in Madeira during the summer months (between July and October) when the weather is mainly sunny and hot, but seldom stifling. Locals, however, advise that you can travel to Madeira any time of year and enjoy perfect weather because there is little temperature variation between winter and summer. As evidenced by its greenery, though, the island does tend to have an abundance of rain, but when it rains on one part, it is usually possible to find a dry spot elsewhere on the island.
Who for? Whatever you look for in a holiday, travel to Madeira to find it. Young and old have a wide variety of activities to indulge in, from scuba diving to cable car rides or thrills and spills in the theme park. Those who enjoy walking are especially drawn to holiday in Madeira and follow the famed 'levada' (canal) trails across this paradise island.
More Info: To discover the delights of a holiday in Madeira, and plan your trip, consult our Madeira travel guide, which contains in depth information about attractions, excursions and useful tips and hints.
---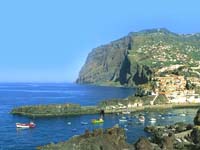 Madeira coastline © Portuguese Department of Tourism
Most people have heard of the Portuguese island of Madeira, but not many know exactly where it is. Located more than 600 miles (966km) southwest of Lisbon, and off the west coast of Morocco, it is a mere speck in the vast Atlantic Ocean. Madeira, along with its sister island of Porto Santo, is actually the summit of an undersea mountain, rearing up with craggy cliffs from the warm blue Gulf Stream waters in one of the deepest parts of the Atlantic. It features one of the world's highest ocean cliffs, soaring 1,933ft (589m) above the sea, which presented a forbidding sight to the ancient Portuguese mariners who first discovered the island archipelago in the 15th century. In fact Porto Santo and Madeira were the first 'new worlds' that were colonised by Henry the Navigator in his quest to explore the world.
Madeira is tiny, just 13 miles (21km) wide and 35 miles (56km) long, and has no beaches, but it does have an Eden-like beauty with its rich volcanic soil having turned it into a botanical wonderland and agricultural treasure house. Most of the indigenous thick forest was destroyed in a fire created by the first Portuguese colonialists to clear it for farming. Today however, the fragrant island blooms with colourful masses of orchids, bougainvillea, frangipani, wisteria and geraniums. Fruit and herbs grow in profusion on the hillsides and in ravines, and the mountain slopes are terraced with orchards and vineyards. The island has been termed a 'floating garden'.
Madeira's most famous export is its fortified wine, and with nearly 14,000 plots, there is a variety to try. Vineyards like Fajã dos Padres and Silva Vinhos offer tours and tastings, and the Funchal Wine Walk is a good way to get a taste of this historical delicacy without leaving town.
Madeira is accessible by air, mainly from Lisbon to the airport near the capital, Funchal. There is no regular passenger ferry to Madeira but cruise ships regularly dock here, bringing thousands of visitors to the island each year.
Become our Madeira Travel Expert
We are looking for contributors for our Madeira travel guide. If you are a local, a regular traveller to Madeira or a travel professional with time to contribute and answer occasional forum questions, please contact us.