Fajardo Travel Guide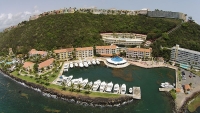 Fajardo © Kyle Hawton
Fajardo, on the Atlantic east coast of Puerto Rico, is the island's scuba diving hub. Dozens of boating companies offer charters and diving excursions on a range of craft, most based at the town's Puerto del Rey Marina, the largest marina in the Caribbean.
Besides having two beautiful beaches just minutes away from town, there are also several uninhabited small islets just offshore, surrounded by coral reefs and the neighbouring islands of Vieques and Culebra connected by ferry and air charters. Fajardo is thus in striking distance of a variety of water sports playgrounds.
Fajardo itself does not offer much in the way of attractions, but it serves as an accommodation centre for this delightful part of Puerto Rico. It is also a social hub for holidaymakers thanks to the presence of the luxurious Wyndham El Conquistador resort, which has a lively casino and world-class golf course.
Become our Fajardo Travel Expert
We are looking for contributors for our Fajardo travel guide. If you are a local, a regular traveller to Fajardo or a travel professional with time to contribute and answer occasional forum questions, please contact us.