Doha Travel Guide
Why? Choose a holiday in Doha for fabulous shopping opportunities, great restaurants, inspiring scenery, relaxing beaches and sunny weather regardless of when you are travelling. The city is the gateway to the rest of the country, including desert safaris, forgotten forts and inland seas.
When? The best time to travel to Doha during the winter months from November to April, which tend to be marginally cooler than the summer months of May to October, when the mercury often peaks at 104F (40C).
Who for? Doha remains a hub for international trade and businesspeople. However, leisure travellers will enjoy Doha equally as much. The city offers a host of world-class shopping malls as well as the more traditional souqs (markets). Children will be entertained with trips to the Doha Zoo and Aladdin's Kingdom, and adventure seekers are sure to enjoy desert safaris and sand-boarding in the dunes. Doha also offers an impressive selection of top restaurants.
More info. Our Doha travel guide is updated regularly and includes information on entry requirements, safety, currency and the like (see the Basics section). For a review of what to see in Doha visit the Attractions and Excursions pages. Note that you can print off a full travel guide to Doha to take with you on your trip, and you can email the travel guide to a friend.
---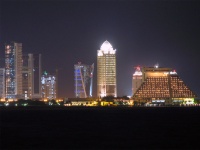 Doha Skyline © Amjra
Doha is the beautiful capital of Qatar, located on the Persian Gulf and home to the majority of the country's population. In 2006 the city hosted the world's largest Asian Games yet, and has since continued to thrive. Doha has a very laid-back atmosphere and is a good base from which to explore the rest of the country. This destination is also renown for being safe and clean.

As a cultural and commercial centre, the city offers plenty of things to see and do including shopping and dining, or simply relaxing on its gorgeous coast or bay area. The Government House is one of the most prominent landmarks and the National Museum, housed in a splendid Arabian palace, was opened in 1975.

Doha's modern seaport, airport and telephone links make it very accessible to visitors, supported by a strong economical base derived from petroleum exports and shrimp processing, as well as finance and administration businesses. Hotels are being refurbished across the city, making this a fantastic destination for travellers.
With the awarding of the 2022 FIFA World Cup to Qatar, Doha is sure to become even more of a tourist haven, as infrastructure is improved and new tourist attractions are established.
Become our Doha Travel Expert
We are looking for contributors for our Doha travel guide. If you are a local, a regular traveller to Doha or a travel professional with time to contribute and answer occasional forum questions, please contact us.