Quebec City Travel Guide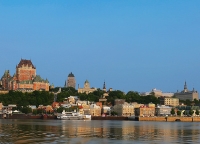 Quebec City © Rennett Stowe
Perched atop Cap Diamant and overlooking the Saint Lawrence River, Quebec City was first settled by the French in 1608 and named for a native Algonquin word meaning 'where the river narrows'. The ambience, lively spirit, high safety rating, and a comfortable blend of past and present make this provincial capital city worthy of its status as one of the top cultural destinations in the world.
The cradle of French civilisation in North America and still notably European in spirit, the historic Old Quebec neighbourhood has a charm all its own. It has small cafes, cosy restaurants, classy boutiques, lively terraces, elegant squares, theatres, museums, and street performers.
About four million visitors are drawn to Quebec City each year, savouring the famed Quebec gourmet scene and the beauty of the historic old district's winding cobbled streets lined with 17th and 18th-century stone houses, churches, parks, and numerous monuments. The city is included on UNESCO's World Heritage List and is one of the only fortified cities in the Americas.
Despite having been ceded to the British in 1759, the city's population of more than half a million are today 95 percent French-speaking, lending a definite joie de vivre and French elegance to the atmosphere.
Become our Quebec City Travel Expert
We are looking for contributors for our Quebec City travel guide. If you are a local, a regular traveller to Quebec City or a travel professional with time to contribute and answer occasional forum questions, please contact us.