Gold Coast, Queensland Travel Guide
Gold Coast Travel Guide
Celebrated for delirious amounts of sunshine, glitzy resorts and a pumping party scene, Gold Coast is one of Australia's most seductive destinations:
Irresistible to beach babes, shopaholics and socialites, Gold Coast beckons tourists with about 43 miles (70km) of beautiful coastline, some of Australia's most impressive shopping centres, and a nightlife which sizzles all year round. The region is also home to some of the world's most diverse and ancient tropical rainforests, as well as some wonderful animal sanctuaries, making it a paradise for nature lovers and hikers as well as party animals.
Gold Coast is one of the fastest growing cities in Australia and frequently graces lists of the most desirable places in the world to live, but Gold Coast also refers loosely to the coastal region south of Brisbane which is packed chock full of resorts and theme parks.
Best time to visit Gold Coast
The Gold Coast is blessed with a subtropical climate and is hot and sunny all year. The summer months (December to February) are swelteringly hot and afternoon rain showers are common. There is also a chance of cyclones during the rainy season. Many visitors therefore prefer the consistently warm, sunny and dry months between June and October. Read more on the Gold Coast's Climate and Weather.
What to see in Gold Coast
-Soak up the glamour and sporting fun at the resort of Sanctuary Cove.
-Marvel at the unique landscapes of Fraser Island, the world's largest sand island.
-Spend a day in Brisbane's lovely South Bank, which is packed full of attractions.
-Catch a sports match at the famous Gabba Cricket Ground.
What to do in Gold Coast
-Party, shop and soak up the sun in Surfer's Paradise.
-Climb Tamborine Mountain, just inland, for a taste of subtropical rainforest.
-Enjoy thrills and spills at the many theme parks, including Wet 'N Wild Water World.
-Cuddle koalas and other Australian animals at the Lone Pine Koala Sanctuary.
Beyond Gold Coast
Brisbane is generally considered part of the Gold Coast and is often the starting point for holidays in the region. Other popular coastal Queensland destinations include Townsville and Cairns, the gateway to the famous Great Barrier Reef, undoubtedly one of the best diving destinations in the world. Those eager to explore the rainforests of the state should head inland to the UNESCO-listed Gondwana Rainforests of Australia.
Getting there
Brisbane International Airport is eight miles (13km) northeast of Brisbane and is a popular choice for international visitors. Alternatively, Coolangatta Airport, generally known as Gold Coast Airport, is situated one mile (3km) from Coolangatta. Get more information on Airports in the Gold Coast.
Did you know?
-Gold Coast is home to the highest concentration of theme parks in the southern hemisphere.
-Duty-free shopping in the Gold Coast is said to be the best in the country.
-A favourite with both Australians and international tourists, Gold Coast attracts a whopping nine million visitors a year!
---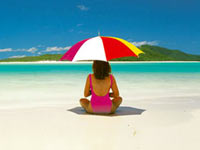 Gold Coast beach ©
Australia's Gold Coast stretches south from Queensland's capital, Brisbane, along 45 miles (70km) of coastline into northern New South Wales. The stunning array of beaches along this coastline are a major drawcard, and where once only the surf graced the shoreline today there is a plethora of high-rise accommodation, giant theme parks, exotic nightlife and countless restaurants. The sun shines here 300 days out of the year, and the beach resort towns with their alluring names all offer soft golden sand, rolling waves and the chance to gain a perfect suntan.
Not even the severe cyclone of 2011 could keep tourists off the stunning beaches of the Gold Coast for long, and the region is now fully recovered. More than two million visitors descend on the Gold Coast every year, and although the main attraction is the glitzy nightlife and fun resort lifestyle the region does have more to offer. For serious surfers, Coolangatta and Burleigh Heads are known for great surf breaks, and nature-lovers can get a dose of beauty at two of the best national parks in Queensland - Lamington and Springbrook - which are just beyond the coast.
Become our Gold Coast, Queensland Travel Expert
We are looking for contributors for our Gold Coast, Queensland travel guide. If you are a local, a regular traveller to Gold Coast, Queensland or a travel professional with time to contribute and answer occasional forum questions, please contact us.