Gold Coast, Queensland Travel Guide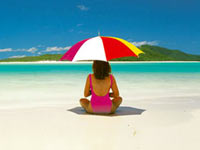 Gold Coast beach ©
*Queensland's Gold Coast was severely damaged by Cyclone Yasi in early 2011, and though much of the area has been restored, some resorts have yet to re-open. Check with your travel agent or tour operator before travelling to the Gold Coast.
Australia's Gold Coast stretches south from Queensland's capital, Brisbane, along 45 miles (70km) of coastline into northern New South Wales. The stunning array of beaches along this coast are a major drawcard, and where once only the surf graced the shoreline today there is a plethora of high-rise accommodation, giant theme parks, exotic nightlife and countless restaurants. The sun shines here 300 days out of the year, and the beach resort towns with their alluring names all offer soft golden sand, rolling waves and the chance to gain a perfect suntan.
The disastrous floods of January 2011 did significant damage to beachfront infrastructure, however the area is recovering. An estimated 86% of the roads are open and tourists have begun to return. However, check with your hotel or travel agent before visiting the Gold Coast.
Become our Gold Coast, Queensland Travel Expert
We are looking for contributors for our Gold Coast, Queensland travel guide. If you are a local, a regular traveller to Gold Coast, Queensland or a travel professional with time to contribute and answer occasional forum questions, please contact us.