Saint-Denis Travel Guide
Why? The island of Reunion is a little piece of France dropped into the Indian Ocean. A holiday in Saint-Denis, the capital, with its brasseries and bistros, cafes and Creole character, is a great jumping-off point for exploring this paradise island while absorbing the town's architectural beauty, lively ambience, shopping for souvenirs (especially spices) and sampling its many good restaurants.
When? Reunion has a hot, humid, typically tropical climate, so you can travel to Saint-Denis at any time of year and be assured of a warm welcome. It is best not to holiday in Saint-Denis during the rainy season though, between November and April.
Who for? Anyone who is seeking a tropical island experience, with the added spice of French flair, will enjoy a holiday in Saint-Denis. The island's active volcano makes it a fascinating destination for amateur volcanologists and eco-tourists who travel to Saint-Denis for the spectacular scenery it provides.
More info: To find out all you need to know to plan a holiday in Saint-Denis use our Saint-Denis travel guide, which is packed with information about the town and the island of Reunion.
---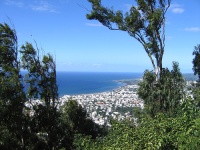 Saint-Denis © Simon-And-You
Réunion's small but spirited capital is Saint-Denis, a picturesque town flanked by three mountains and situated at the mouth of the Saint-Denis River. Saint-Denis is a mixture of sophisticated French-style restaurants, bars and nightclubs (with Parisian prices), and more traditional sights and sounds. Sadly, it is often sidestepped on trips to the island, used merely as a starting point due to its close proximity to the airport. However, it is well worth taking some time to explore its charms before moving on.
The chic, upmarket seafront area with its promenade is known as La Barachois, and remnants of the small port that once existed can be found, including an old warehouse of the East India Company that now houses the French Administration Offices. The Grande Marche (market) is a treasure trove of Malagasy arts and crafts, fragrant spices and textiles, while smaller markets offer mouth-watering fresh tropical fruits and vegetables. A distinctly French flavour mixes with African, Chinese, and Indian, creating a mélange that is evident even in the cuisine. Try a delicious cari (a meat or fish stew cooked in a sauce and eaten with rice) and rougail (a spicy tomato salsa), sample some excellent Chinese food from a tiny take-away or indulge in juicy mangoes or litchis off the stalk.
Saint-Denis boasts a fascinating mix of religious architecture, from mosques, Tamil and Buddhist temples, to its Cathedral, illustrating the diversity of the island. There are several quaint old buildings, an interesting Natural History Museum, a Modern Art museum named after the poet Léon Dierx and the facades of old East India Company buildings. It is also well worth getting out of town and climbing one of the three surrounding peaks for a gorgeous view. Perhaps the most breathtaking is from Route de la Montagne (the Mountain Road), a steep track that winds up to the top of a lava cliff that drops dramatically into the sea. Once the delights of Saint-Denis have been explored, the rest of the island paradise of Réunion awaits.
Become our Saint-Denis Travel Expert
We are looking for contributors for our Saint-Denis travel guide. If you are a local, a regular traveller to Saint-Denis or a travel professional with time to contribute and answer occasional forum questions, please contact us.