United States of America

---

---

---

---
Newport Travel Guide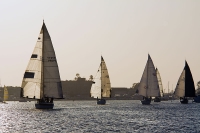 Newport Harbour © WPPilot
Billed as America's 'First Resort', the fabled city of Newport lies just 30 miles (48km) south of Providence, Rhode Island's capital, accessed by two bridges that cross the blue Narragansett Bay.
Newport is famed for being America's yacht racing Mecca, and for boasting dozens of magnificent mansions built during the so-called 'gilded age' at the turn of the 20th century when one needed a distinctive pedigree and hefty bank account to holiday here with America's elite. Nearly a dozen of these extravagant 'summer homes' of America's wealthiest families are now open to the public, and Newport itself today welcomes all and sundry to enjoy a leisurely visit to this lively city with its beautiful beaches and varied attractions.
Newport is no longer just a summer fun destination, but it is hip and happening all year round thanks to a full programme of festivals and events that encompass classical, folk and jazz music festivals in the summer; the 'Harvest-by-the-Sea' fest in October; a renowned Christmas celebration in December; and the Newport Winter Festival in February. In between events the lively waterfront, shops and cultural attractions are enough to keep visitors entertained even when the weather makes beach going or sailing not too desirable.
Become our Newport Travel Expert
We are looking for contributors for our Newport travel guide. If you are a local, a regular traveller to Newport or a travel professional with time to contribute and answer occasional forum questions, please contact us.