United States of America

---

---

---

---
Providence Travel Guide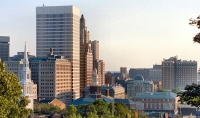 A view of the Providence © Will Hart
The historic city of Providence has recently been reborn - in the past few years the city fathers have been overseeing the re-routing of rivers, rebuilding of railways, upgrading of dilapidated neighbourhoods and the building of a modern convention centre, an upmarket shopping mall and a beautiful riverfront park. Most of the renovation has been undertaken in Italian style, with imported artisans and artists from Florence being responsible for most of the building work.
Despite the modernisation Providence remains known and loved for its abundance of historic and cultural attractions, and it's three and a half centuries of history remain alive and well on the streets in the form of scores of perfectly preserved colonial, Greek Revival and Victorian houses and public buildings. With 12 colleges and universities full of young people, the city's nightlife is constantly buzzing, and Providence is also renowned for its excellent restaurants - it has more restaurants per capita than any other major American city.
Providence was founded in 1635 by a dissident Puritan from the Massachusetts Bay Colony, Roger Williams. Williams established the city as a refuge for freethinkers and religious dissenters, encouraging independence of spirit. The city still reflects this independent spirit today in its academic and cultural realms and with its recent renaissance seems set to keep on moving, countering trends in other New England cities.
Become our Providence Travel Expert
We are looking for contributors for our Providence travel guide. If you are a local, a regular traveller to Providence or a travel professional with time to contribute and answer occasional forum questions, please contact us.