Aberdeen Travel Guide
Why? Aberdeen is a lively, scenic city enriched with 8,000 years of history. While its traditional, granite-based architecture earns Aberdeen the title of Silver City, the city holds a plethora of parks and walkways, and has won the Royal Horticultural Society's Britain in Bloom 'Best City' award ten times.
When? The optimal time to visit Aberdeen is during the summer (June to August), when one can best appreciate the picturesque parks and golden beach sand. However, a host of festivals between March and May make spring the peak travel season.
Who for? Aberdeen is a place that can be enjoyed by young and old alike. The world's largest international youth festival takes place here in the summer, with literature, jazz and traditional folk festivals taking place in the spring. For history lovers, Aberdeen has an abundance of museums and tours of its historic buildings.
More info. For more on Aberdeen see our travel guide, with details on things to see in our attractions section, and events for you to choose how to make a festive time out of a trip to the Silver City.
---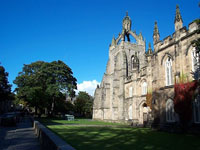 Kings College ©
The bustling seaport of Aberdeen is Scotland's third biggest city, and has been dubbed the Oil Capital of Europe. This alone is not likely to entice visitors to the city, other than those on business trips, but the fact that Aberdeen boasts a fascinating and bloody history, historic granite buildings, beautiful churches, attractive green spaces and plenty of Scotch whisky, just might.
Once a site of brutal conflict with the English during the Scottish Wars of Independence, the city was razed to the ground by King Edward III in 1336, but was quickly rebuilt and expanded rapidly over the centuries as it grew in prominence as a port. The 18th and 19th centuries saw an increase in elegance and style in the city, predominantly in the architecture of Old Aberdeen, an area of buildings made from the glittering local granite. Here, architectural gems include the 15th-century Kings College, the Town House, and Marischal College, one of the best examples of Edwardian architecture in Britain.
Modern Aberdeen is friendly and fun, although foreigners may struggle to understand the thick local accent. Belmont Street and surrounds are packed with restaurants, clubs, bars and live music venues; there are plenty of top-class museums and galleries including the Maritime Museum and the Aberdeen Art Gallery; and the city boasts a host of lush parks, including Duthie Park, which opened in 1883. The vibrant waterfront district also merits exploration, as well as some of the lovely sandy beaches close by.
Aberdeen also acts as a perfect hub from which to explore the beauty and majesty of the Grampian Highlands, enjoy a tipple on the Malt Whisky trail or ramble around ancient Scottish castles.
Become our Aberdeen Travel Expert
We are looking for contributors for our Aberdeen travel guide. If you are a local, a regular traveller to Aberdeen or a travel professional with time to contribute and answer occasional forum questions, please contact us.