The Highlands Travel Guide
The Highlands travel Forum
---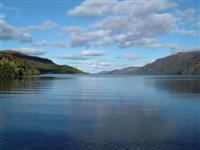 Loch Ness, Scottish Highlands ©
The Highlands of Scotland contain some of the most spectacular scenery in the world. A timeless wonderland, where roads and railways cut through breathtaking mountain views, past the deep and mysterious lochs, through the world's finest whisky-producing regions, and up to the highest peaks in Britain.
The long and dramatic Loch Ness, a short journey from Inverness, with its mythical Loch Ness Monster, affectionately known as 'Nessie', has attracted thousands over the past century, all eager to catch a glimpse. The region is rich in heritage, and has played host to many bloody battles between the proud and ancient Scottish clans. Off the coast, the Hebrides, Orkney and Shetland Islands with their rugged and dramatic scenery reveal ancient settlements and unspoilt insights into the ancient history of Scotland. A visit to this highland wilderness, despite predictably unpredictable weather, ignites a very basic pleasure and can be a glorious and refreshing experience.
Become our The Highlands Travel Expert
We are looking for contributors for our The Highlands travel guide. If you are a local, a regular traveller to The Highlands or a travel professional with time to contribute and answer occasional forum questions, please contact us.