Dakar Travel Guide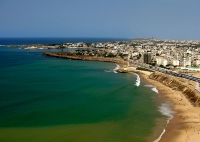 Dakar © Jeff Attaway
After three centuries of French colonial rule, Senegal became independent in 1960. Before independence the city of Dakar was the capital of French West Africa, which included nine French-speaking states, and Dakar has been the capital of the independent Republic since then. The country retained strong ties with France and the French influence remains in the architecture of the city, where well preserved colonial buildings, the monumental government house and café terraces stand testimony to its history.
Situated on the tip of the Cap Vert Peninsula, the modern capital teems with life and boasts luxurious hotels, a wide range of restaurants, beaches and watersports, a casino and an active nightlife scene. It is also one of the busiest ports for cruise ships in Africa.
As the nearest African country to the United States, Senegal became the most important slave depot in West Africa and the island of Gorée, just two miles (3km) offshore, was the centre of the slave trade. For nearly four centuries thousands of men, women and children were kept locked in cells on the island, the 'Door of no Return', before being shipped to the Americas. Today Gorée is a UNESCO Historical Monument and visitors can experience the horrors of its past in 'La Maison des Enclaves' with its cells, shackles and the slave dealer's apartments, as well as at the many museums housed in former slave houses, and the forts built to protect the lucrative business.
There are some beautiful buildings worth seeing in Dakar as well, including the city's cathedral and grand mosque. The most famous attraction in Dakar is the controversial African Renaissance Monument, a massive sculpture meant to represent Africa's emergence from slavery and colonialism. There is much disagreement about the sentiment of the statue, which was made by North Korea and not in Africa. evertheless, the statue is an amazing site, as it is taller than the Statue of Liberty in New York.
Another great way to enjoy an afternoon in Dakar is by browsing the busy markets or having a picnic in one of the beautiful parks. Hann Park and Zoo is a great place to take kids in Dakar. Lake Retba is also an interesting sight, as visitors can watch the traditional salt harvesters at work.
Become our Dakar Travel Expert
We are looking for contributors for our Dakar travel guide. If you are a local, a regular traveller to Dakar or a travel professional with time to contribute and answer occasional forum questions, please contact us.