Dakar Travel Guide
Why? A holiday in Dakar will reveal the Senegalese capital as one of Africa's most exciting cities, with a French flair that is a legacy from its colonial days. It may be dirty, noisy and crowded, but Dakar has plenty to recommend it with a vibrant music scene, buzzing street markets, and interesting attractions (especially the Ile de Goree museums where slaves were held before being shipped out). Close to the city is a selection of beautiful West African beaches.
When? When to take a holiday in Dakar is dictated largely by the climate. The weather is generally hot and humid, but in January and February the "harmattan" winds fill the air with sand, and late summer (July and August) it is very wet and humid. The best time to travel to Dakar is between October and December.
Who for? Any curious traveller keen for an African urban adventure, especially one who is not deterred by a manic atmosphere fraught with crowds and beggars, will enjoy a Dakar holiday. Visitors are advised to keep a close eye on their possessions for pick-pockets and petty thieves.
More Info: Dakar is an assault on the senses for most Westerners, so it is advisable to plan your Dakar holiday well with the help of our comprehensive Dakar travel guide. The guide is packed with useful information from local customs to communications, and health and safety tips.
---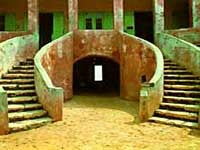 Gorée Island slave house ©
After three centuries of French colonial rule, Senegal became independent in 1960. Before independence the city of Dakar was the capital of French West Africa, which included nine French-speaking states, and Dakar has been the capital of the independent Republic since then. The country retained strong ties with France and the French influence remains in the architecture of the city, where well preserved colonial buildings, the monumental government house and café terraces stand testimony to its history.
Situated on the tip of the Cap Vert Peninsula, the modern capital teems with life and boasts luxurious hotels, a wide range of restaurants, beaches and watersports, a casino and an active nightlife scene. It is also one of the busiest ports for cruise ships in Africa.
As the nearest African country to the United States, Senegal became the most important slave depot in West Africa and the island of Gorée, just two miles (3km) offshore, was the centre of the slave trade. For nearly four centuries thousands of men, women and children were kept locked in cells on the island, the 'Door of no Return', before being shipped to the Americas. Today Gorée is a UNESCO Historical Monument and visitors can experience the horrors of its past in 'La Maison des Enclaves' with its cells, shackles and the slave dealer's apartments, as well as at the many museums housed in former slave houses, and the forts built to protect the lucrative business.
Become our Dakar Travel Expert
We are looking for contributors for our Dakar travel guide. If you are a local, a regular traveller to Dakar or a travel professional with time to contribute and answer occasional forum questions, please contact us.