Belgrade Travel Guide
Why? A holiday in Belgrade offers the chance to explore a battered but spirited Balkan capital, where modern nightlife and busy shopping malls combine with a fascinating history to ensure there is never a dull moment for visitors.
When? Summer, particularly the hot, sunny months of July and August, are the best time to enjoy a holiday in Belgrade, when the streets are full of life and colour and the war-torn buildings are brightened up under blue skies.
Who for? A holiday in Belgrade will suit those seeking a city break with a difference. Those who choose to travel to Belgrade are generally seeking more than just shopping and sightseeing, but wish to soak up the soul of this city, which has endured so much and emerged with a welcoming smile.
More info: It is essential to know as much as possible about the city before setting out to ensure you understand and appreciate this unique eastern European capital. Our Belgrade travel guide is packed with useful information including details of the main attractions.
---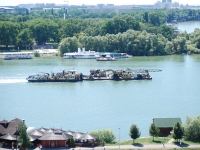 Kalemegdan, Belgrade © Jorge-11
'Come to a city where you will feel at home.' This is the call put out by the Tourism Organisation of Belgrade on its website, but one that potential visitors to Serbia's capital may feel is rather exaggerated, given the city's reputation as one of the most turbulent European cities. The history of Belgrade, originally known as Singidunum, goes back 6,000 years; the tales of conflicts and devastation it has experienced in all that time would fill many tomes. Belgrade, however, always bounces back and is currently lifting itself up and shaking itself off amid the scars of its most recent conflagration, when NATO forces bombed the city for 78 straight days in 1999.
Belgrade (or Beograd in Serbian) is situated in a strategic spot of south-eastern Europe where the Sava and Danube rivers join on the Balkan Peninsula. It is not a pretty city, but rather one layered with the relics of its many generations and invaders, resulting in a conglomeration of architecture and cultures, which have somehow melded together to imbue the modern city with its own unique charm. From the pile of rubble, which is all that remains of the bombed-out former military headquarters on Kneza Milosa, to the techno wildness of its famed nightclubs beneath the Kalemegdan Citadel, Belgrade tells many stories and offers dozens of experiences.
The best place to begin understanding the city is on the site of its original ancient settlement, the hill called Kalemegdan, now a fascinating park-like complex of historic buildings above the Old Town (Stari Grad). The Military Museum situated here traces the history of the city's bloody past, from its first conflict with the Roman Legions in the 1st century BC, to an exhibit of parts of a United States Stealth Bomber, shot down in the 1999 air raids.
Those who choose to ignore history and enjoy Belgrade as it is today will find a myriad of leisure and pleasure opportunities, all offered by the incredibly hospitable inhabitants who are justly proud of this indomitable city.
Become our Belgrade Travel Expert
We are looking for contributors for our Belgrade travel guide. If you are a local, a regular traveller to Belgrade or a travel professional with time to contribute and answer occasional forum questions, please contact us.