Singapore Travel Guide
Why? Many business people and holidaymakers travel to Singapore on their way to the Far East, or as a stop-off between Australia and Europe, and are eager to see and experience this legendary hi-tech Asian city, which combines traditional enclaves with the towering steel and cement of a cosmopolitan international power-house. Singapore is also one of the world's hottest shopping spots.
When? Singapore is a city of cultural festivals, from Chinese New Year parades in February to the Hindu Festival of Lights in November, so it is wise to coincide a Singapore holiday with one of these colourful events (check the events page on our Singapore travel guide). Weather-wise, being near the equator, it is hot and humid all year round with brief rain showers experienced nearly every day.
Who for? Being an international financial centre, many who travel to Singapore come on business trips. A Singapore holiday is particularly appealing for serious shoppers, with its magnificent malls and competitive prices. Anyone who gets a thrill from a bustling city will enjoy vacationing in Singapore.
More Info: To find out all that Singapore has to offer consult our detailed travel guide, which is updated regularly. The Singapore travel guide also contains all the basic information required to travel to Singapore, including entry requirements and airport information.
---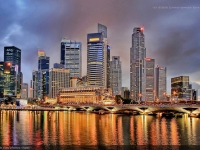 The Singapore skyline © Christopher Chan
Beguiling Singapore is a modern city-state embracing economic progress against the backdrop of age-old tradition. The customs that underpin community life are created out of a cultural mix that includes predominantly Chinese, Indian and Malay ethnic groups.
Singapore is an island off the southern tip of Malaysia, linked to it by a causeway. It evolved from a sleepy fishing village in the early 1900s to become one of Asia's economic tigers. Sir Thomas Stamford Raffles landed on Singapore's northern bank in 1819 and felt that its location made it ideal as a trading station. From here Singapore's landscape was transformed by British colonial rule, Japanese occupation, Communist insurrection and finally, independence. Since becoming a republic in 1965 the island has experienced increased prosperity and exponential economic growth. Shimmering skyscrapers tower above the slick financial districts and elegant colonial buildings preserve a lingering old-world charm.
Singapore's full calendar of events showcases a spectrum of cultural celebrations and shopping activities. The early summer months bustle in anticipation of the Singapore Sale - a time when tourists can cash in on the competitive prices of electronic equipment, jewellery and other merchandise. The business activity thrives amidst the celebration of Chinese, Hindu and Muslim festivals that punctuate the year with their colourful representations. These include the Chinese New Year, Ramadan, Hari Raya Puasa, Vesak Day, the Dragon Boat Festival, Festival of the Hungry Ghosts and Thaipusam.
The core of downtown Singapore is formed by the Colonial District, embellished by cathedrals and cricket lawns. The notable sites of the area include the Empress Place Building and the luxurious Raffles Hotel. Although most of old Singapore has been demolished to make way for the modern city, many major landmarks within the Colonial district have been preserved. The surrounding ethnic enclaves of Little India, Chinatown and the Arab Quarters also provide glimpses into the traditions that have sustained their respective communities through the centuries.
Become our Singapore Travel Expert
We are looking for contributors for our Singapore travel guide. If you are a local, a regular traveller to Singapore or a travel professional with time to contribute and answer occasional forum questions, please contact us.