Ljubljana Travel Guide
Why? Cute and compact, visitors find that a holiday in Ljubljana, capital of Slovenia, is a pleasant way to pass a few days of leisure and pleasure. Travel to Ljubljana and you will find the city has plenty of olde worlde charm, trendy cafes and bars, and a slightly bohemian, artsy atmosphere. It is a delightful place to just wander around and discover its surprises for yourself.
When? The best time to holiday in Ljubljana is during the warm, balmy summers, when the weather is surprisingly good. It is best to avoid travel to Ljubljana during winter because it is invariably very cold and damp, with fog common in the basin which contains the city.
Who for? A holiday in Ljubljana is for anyone who enjoys a refreshing city break in pleasant surroundings, where there is plenty to see and do, excellent food to sample in good restaurants, and a lively nightlife to enjoy.
More info: Before you travel to Ljubljana to explore this picturesque city, first explore our comprehensive Ljubljana travel guide, which contains all the information you need to plan a great holiday in Ljubljana. The Ljubljana guide can be printed out or emailed, and is updated regularly to ensure details are current.
---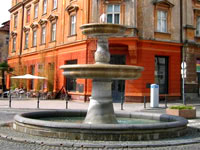 Ljubljana ©
A city of culture and cuisine, boutiques, bars and hidden treasures, Ljubljana, capital of Slovenia, exudes the confidence of an architecturally beautiful city that has 5,000 years of fascinating history tucked under its belt. The magnificent Baroque, Renaissance and Art Nouveau edifices of its old town centre, and its many charming squares, emanate the atmosphere of a small town; while its lively cultural, scientific, educational and business communities leave no doubt that this is a modern city in tune with the times.
Ljubljana devotes itself mainly to cultural events, with many thousands of these gracing its calendar each year, including the Summer Festival, Jazz Festival and the Druga Godba Festival of Alternative Music. Music is the lifeblood of the city, which boasts one of the oldest established Philharmonic orchestras in the world, not to mention some accomplished street musicians. It is not all classical culture, however. With its large student population Ljubljana knows how to rock, and you are just as likely to hear the throbbing beat of club music emanating from buildings after nightfall, as you are the strains of violins.
Food is a big factor in any visit to Ljubljana, where all the best of Eastern European cuisine seems to have merged into a smorgasbord of delights, from delicate Viennese-style pastries to hearty Hungarian goulash.
Become our Ljubljana Travel Expert
We are looking for contributors for our Ljubljana travel guide. If you are a local, a regular traveller to Ljubljana or a travel professional with time to contribute and answer occasional forum questions, please contact us.