Guadalcanal Island Travel Guide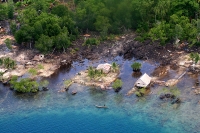 Guadalcanal Island © AusAID
The largest of the Solomon Islands and the site of the capital city Honiara, Guadalcanal is sure to be the first port of call for foreign visitors to the pristine archipelago. First 'discovered' by European navigators in 1568, the island enjoyed a relatively quiet and peaceful history until World War II, when fierce fighting between Allied and Japanese troops broke out.
Since then, despite suffering severe tsunami damage in 2007, life on Guadalcanal has returned to its relaxed and peaceful pace, as the vast majority of its 90,000-strong population continue to make ends meet through subsistence fishing and farming practices.
Guadalcanal Island is either home or provides easy access to most of the Solomon Island's best tourist attractions. The moving US and Japanese Peace Memorials are worth visiting, especially for those interested in historical sites, while several old battlefields such as Red Beach, Alligator Creek, and Bloody Ridge can also be visited for a sobering reminder of the devastation that was brought to the island during World War II.
It is also possible to make a few exciting excursions from Guadalcanal. The best of these are to the Tenaru Falls, a lovely waterfall complex that is reached after a long walk through dense tropical forest; Skull Island, where mounds of human skulls (the relics of head-hunting raids) are proudly displayed; and Kwaio Island, where sensitive visitors will be allowed to observe a community that has rejected modern life, choosing instead to live by the traditions of their ancestors.
Jewellery made from seashells is a popular Solomon Islands souvenir, and tourists can either visit the folk art enclave of Betikama to watch this jewellery being produced, or else simply visit the Honiara Central Market to pick some up. The Central Market is the best place to shop in the Solomon Islands, largely consisting of stalls selling fresh fruit and vegetables and an incredible selection of fish and seafood.
However, the Solomon Island's greatest tourist attraction remains the diving and snorkelling opportunities available to visitors. The area off the coast of Honiara is known as Iron Bottom Sound, and tourists will have the unique chance to dive amongst sunken transport ships, submarines, and even fighter-planes. For those seeking a luxurious getaway, the nearby beach resort of Uepi Island is the archipelago's most lavish, and provides drop-off diving sites that rival the very best in the world.
There is a lot to see and do on Guadalcanal Island, and tourists looking for that rarest of holiday experiences (an off-the-beaten-track tropical island getaway) should seriously consider making a trip to the Solomon Islands.
Become our Guadalcanal Island Travel Expert
We are looking for contributors for our Guadalcanal Island travel guide. If you are a local, a regular traveller to Guadalcanal Island or a travel professional with time to contribute and answer occasional forum questions, please contact us.