Bloemfontein Travel Guide
Bloemfontein travel Forum
---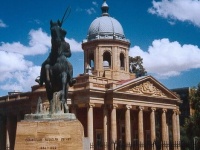 Raadsaal in Bloemfontein © Georgio/Kelovy
Known as the 'City of Roses', Bloemfontein is a small interior city that forms the economic and cultural centre of the Free State and is the judicial capital of South Africa. With wide streets, beautifully kept gardens and historic state buildings, Bloemfontein is a modern city that has an old-fashioned charm about it.
Surrounded by rural farmland for many miles in every direction, the metropolis is the central transport hub for the rest of the country and is visited mainly as a stopover to other destinations. While visiting, take a stroll down the historic, tree-lined President Brand street, which has been declared a national conservation area, and admire the architecture of the old sandstone government buildings. One of the major centres of activity in Bloemfontein is the man-made Loch Logan Waterfront, which offers a range of shops, restaurants, bars and clubs and is the place to be after dark. The Oliewenhuis Art Gallery is also a worthy attraction as it houses magnificent work by both traditional and contemporary South African artists. The monthly art market in Kings Park, the annual Rose Festival in October and the Agricultural show in March all pull crowds from around South Africa as well as visiting tourists. There are a number of reserves in the area, including Caledon, Franklin, Soetdoring Dam, and others. Bloemfontein also has several good golf courses, and a zoo that the kids will enjoy while Dad is on the links. Be sure to visit the beautiful Free State National Botanical Gardens, and have a look at the Free State Stadium, the largest structure in town, which hosted five games for the 2010 World Cup.
Become our Bloemfontein Travel Expert
We are looking for contributors for our Bloemfontein travel guide. If you are a local, a regular traveller to Bloemfontein or a travel professional with time to contribute and answer occasional forum questions, please contact us.
Africa Miracles specialises in tailor-made holidays to South Africa. Travel to the website and find information on South Africa and suggested itineraries.
ADVERTISEMENT
---
iExplore designs made-to-order, privately-guided adventure safaris to South Africa and 200 other world wonders. Come Back Different!
ADVERTISEMENT
---
Intrepid Travel, one of the world's leading suppliers of small group adventures focused on getting off the beaten track, interacting with the locals and having real life experiences throughout South Africa.
ADVERTISEMENT
---