Cape Town Travel Guide
Cape Town Travel Guide
With great restaurants, spectacular scenery, perfect beaches and a Mediterranean climate, Cape Town encompasses everything you could need in a holiday destination:
An eclectic blend of cultures and traditions, Cape Town is a modern and cosmopolitan city located at the southern tip of Africa. Nestled between Table Mountain and the Atlantic Ocean, Cape Town often named among the world's most beautiful cities. Cape Town's many attractions include its postcard-perfect beaches, tucked away between fashionable cafes and multimillion-dollar beach houses; excellent restaurants and lively nightlife that attract Hollywood celebrities; and the rolling hills of the nearby Cape Winelands, which offer decadent tasting experiences.
In addition to the most famous tourist attractions, visitors can enjoy a traditional South African braai (barbecue) at lively township restaurants like Mzoli's, catch a rugby match at the historic Newlands Stadium, go on a pub crawl down Long Street, or browse the wares at one of the city's dozens of craft and food markets.
Cape Town is a melting pot of cultures, with African influences blending with Cape Malay, English and Dutch culture. Mix in a blend of residents and tourists from all over the world, and you have a fascinating city that never fails to enchant.
Best time to visit Cape Town
December to March is peak season for Cape Town, although the weather can be lovely in spring and autumn with crisp, clear days ideal for sunbathing and sightseeing. The December holiday season can be uncomfortably hot at times however, and tends to be crowded with local tourists. However, winters in Cape Town can be cold and rainy. Read more on Cape Town's Climate and Weather.
What to see in Cape Town
-Visit the District Six Museum for a peek into Cape Town's tumultuous history.
-Tour the infamous Robben Island prison, where Nelson Mandela was held for nearly 30 years.
-Say hello to the marine life at the Two Oceans Aquarium.
-Take a township tour through Gugulethu or Khayelitsha.
What to do in Cape Town
-Take a cable car to the top of the iconic Table Mountain for a spectacular view of the city.
-Sun yourself on the sand and cavort with penguins at Boulders Beach.
-Treat the kids to a ride on the rollercoasters at Ratanga Junction.
-Have a picnic and listen to a concert in the stunning Kirstenbosch Botanical Gardens.
Beyond Cape Town
Cape Town is well-situated to be part of a larger holiday in South Africa. Tourists can take a trip through the Cape Winelands, drive along the Garden Route, explore the beaches on South Africa's West Coast, or fly up to Johannesburg for a safari in Kruger National Park. Popular weekend getaways include wine-tasting in Stellenbosch, whale-watching in Hermanus, bird-watching in Knysna and shark cage-diving in Gansbaai.
Getting there
Cape Town International Airport is located 13 miles (20km) east of Cape Town, and there are buses and taxis available into the city. Flights to Cape Town are available from a number of major international airports, including Amsterdam, London, Frankfurt, Munich, Zurich, and Dubai. Many airlines offer flights with layovers in Johannesburg, however travellers should make sure they have plenty of time to clear customs. Get more information on Cape Town International Airport.
Did you know?
Cape Town's two nicknames, the 'Cape of Storms' and the 'Cape of Good Hope', were given to it by Bartolomeu Dias, who discovered it in 1486.
Every day except Sunday, the Noon Day Gun booms across the city to signal 12pm. The cannon is located on Signal Hill, and tourists can attend the ceremony.
The world's first heart transplant was performed by Dr Christiaan Barnard at Cape Town's Groote Schuur Hospital in 1967.
---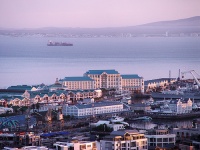 Cape Town's V&A Waterfront © coda
The lure of a holiday in Cape Town lies in its spectacular setting and the beauty of its natural environment, as well as the rich cultural diversity of its people.
It has had a long and turbulent history, and the effects of Apartheid still linger in the minds and hearts of the people. Transformation, however, has led to a feeling of hope in this new 'Rainbow Nation', which can be experienced in the cosmopolitan city centre of Cape Town. Flower sellers, business executives, parking attendants, office workers and shoppers all rub shoulders in a setting of both historical and modern buildings, backed by the city's most famous landmark, Table Mountain. The colourful Malay Quarter, the remains of District Six, St George's Cathedral, Government Avenue and the old Castle are historically significant, while world-class African and international restaurants tempt travellers with their culinary delights. Although an African city, Cape Town has a marked European influence and visitors can experience the excitement of Africa from the comforts of First World surroundings.
Cape Town's unique setting means that it can be enjoyed from various vantage points: Table Mountain, Lion's Head, and Signal Hill provide breathtaking vistas over the city bowl and the Cape peninsula with its beautiful beaches; trips to Robben Island offer a dramatic sweep of scenery across to Table Bay; and harbour tours and old buildings await exploration at the cosmopolitan Waterfront. Many scenic routes meander along magnificent stretches of coastline and inland terrain leading to special places like Cape Point, the meeting place of the cold Benguela and warm Mozambique currents; and Chapman's Peak, which boasts one of the most picturesque drives in the country.
It is a city with four distinct seasons, each working its particular magic on Cape Town and bringing with it a flood of associations - summer and white sandy beaches, autumn's crisp colours, the ferocity of stormy seas in winter, and spring's show of Cape fynbos flowers.
This vast combination of culture, history and scenery leads to an unforgettable experience. This is a special place with much to contribute towards its growing reputation as a favoured travel destination.
Our Travel Expert
An American expat currently living in South Africa, Anya Klaassen has travelled widely as a musician and writer.
>Read Anya's tips on Cape Town
>Ask Anya a question
---
Become our Cape Town Travel Expert
We are looking for contributors for our Cape Town travel guide. If you are a local, a regular traveller to Cape Town or a travel professional with time to contribute and answer occasional forum questions, please contact us.
---
Africa Miracles specialises in tailor-made holidays to South Africa. Travel to the website and find information on South Africa and suggested itineraries.
ADVERTISEMENT
---
iExplore designs made-to-order, privately-guided adventure safaris to South Africa and 200 other world wonders. Come Back Different!
ADVERTISEMENT
---
Intrepid Travel, one of the world's leading suppliers of small group adventures focused on getting off the beaten track, interacting with the locals and having real life experiences throughout South Africa.
ADVERTISEMENT
---