Drakensberg Mountains Travel Guide
Drakensberg Mountains travel Forum
---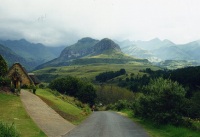 Drakensberg Mountains © TheLizardQueen
The jagged peaks of the Drakensberg (Dragon Mountains) tower over the eastern border of Kwa-Zulu Natal with Lesotho, providing a paradise for outdoor enthusiasts. The mountains abound with hiking trails, climbing routes, 4x4 trails, pony treks and adventure pursuits, all accessible from numerous resorts in the lower reaches.
Though home to a few luxury resorts and small towns, the region is largely untamed, and criss-crossed by lengths of rugged dirt roads. The only road that breaches the mountain range and crosses the border to Lesotho is the hair-raising Sani Pass, which is topped by the highest pub in Africa.
The mountain range is a popular getaway for Johannesburg and Durban residents, offering plenty of opportunities for hiking, rock climbing, golf, horseback riding, fishing, and even hot air ballooning. If relaxation is what you're after however, you can simply enjoy the stunning views provided by the peaks and valleys and their waterfalls, caves, streams, and rock pools. Several locations, including Giant's Castle, feature ancient rock paintings left by the San people on cave walls.
Whether you venture north to the highest peaks of Mont-Aux-Sources, Cathedral Peak, and the Amphitheatre; or amuse yourself in the foothills to the south, a vacation in the Drakensberg Mountains offer fun and relaxation for everyone.
Become our Drakensberg Mountains Travel Expert
We are looking for contributors for our Drakensberg Mountains travel guide. If you are a local, a regular traveller to Drakensberg Mountains or a travel professional with time to contribute and answer occasional forum questions, please contact us.
Africa Miracles specialises in tailor-made holidays to South Africa. Travel to the website and find information on South Africa and suggested itineraries.
ADVERTISEMENT
---
iExplore designs made-to-order, privately-guided adventure safaris to South Africa and 200 other world wonders. Come Back Different!
ADVERTISEMENT
---
Intrepid Travel, one of the world's leading suppliers of small group adventures focused on getting off the beaten track, interacting with the locals and having real life experiences throughout South Africa.
ADVERTISEMENT
---