Durban Travel Guide
Why? A Durban holiday has long been the dream destination for locals and visitors to South Africa, and although its popularity may have slipped in recent years in favour of the Cape and Natal's south coast resorts, the city still offers some of the country's most beautiful beaches and best weather. Travel to Durban for unique experiences like a traditional rickshaw ride along the buzzing beachfront, nicknamed 'The Golden Mile', and some excellent curries prepared by the world-famous Indian community.
When? Sunny weather all year round makes a Durban holiday a sure bet when it comes to the weather. With its sub-tropical climate, the summers are hot and winters mild, and the sea is blue and enticing no matter what time of year you travel to Durban.
Who for? A Durban holiday is traditionally the break of choice for South Africans, and is enjoyed by overseas visitors too. Durban is very family friendly with its funfairs, waterparks, great beachfront hotels and good shopping malls. Durban is also a top choice for international conferences and trade expos held in South Africa.
More Info: For useful advice and tips on how to plan and enjoy a Durban holiday use our Durban travel guide, which features a plethora of information about attractions, excursions, events, and much more.
---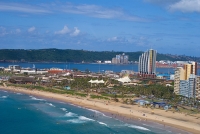 Delightful Durban is the largest city of the vast and varied KwaZulu-Natal province of South Africa. A coastal port with a more than equable sub-tropical climate and wide golden beaches washed by the warm Indian Ocean, Durban is a holidaymaker's paradise and gateway to the dozens of seaside resort towns of the coast to the south and north of the city. The 'Golden Mile' central beach area, flanked by numerous high-rise hotels, stretches for four miles (6km) and is fronted by promenades and entertainment facilities with many things to see and do, such as a skatepark, flea markets and colourful traditionally clad Zulu rickshaw pullers.
Although much of Durban is characterised by British colonial heritage and beautiful Art Deco architecture, the city is actually an exciting mix of cultures. There is a large Indian community, descendants of indentured labourers who came to work on the Natal sugar estates in the 1850s, and who provide the city with an intoxicating oriental flavour enhanced by their shrines, bazaars and tantalising curry restaurants. There are also the Zulu people, whose proud warrior ancestors inhabited the province before the coming of the European colonial powers. The heritage of the amaZulu is very evident in the region north of the Tugela River, known as Zululand, where the legendary King Shaka once ruled supreme and today is where most of KwaZulu-Natal's best game parks are to be found.
Durban is the gateway not only to the coastal beach resorts of the province, but also to the rolling hills and plains of the Natal Midlands and their backdrop: the majestic, jagged peaks of the Drakensberg Mountains, which border the province in the west and cradle the nearby mountain kingdom of Lesotho.
Become our Durban Travel Expert
We are looking for contributors for our Durban travel guide. If you are a local, a regular traveller to Durban or a travel professional with time to contribute and answer occasional forum questions, please contact us.
Africa Miracles specialises in tailor-made holidays to South Africa. Travel to the website and find information on South Africa and suggested itineraries.
ADVERTISEMENT
---
iExplore designs made-to-order, privately-guided adventure safaris to South Africa and 200 other world wonders. Come Back Different!
ADVERTISEMENT
---
Intrepid Travel, one of the world's leading suppliers of small group adventures focused on getting off the beaten track, interacting with the locals and having real life experiences throughout South Africa.
ADVERTISEMENT
---