East London Travel Guide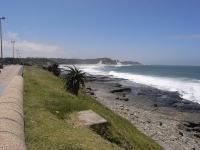 East London © Lysippos
Gateway to the Wild Coast, East London is a small, friendly city on the Indian Ocean where activities like surfing, fishing and golf take precedence. The city centre branches out into business parks, malls and suburbs set in subtropical vegetation, which are dissected by a myriad of rivers such as the Buffalo and Nahoon, whose wide banks meander lazily into the ocean, offering locals excellent fishing, rowing and cruising opportunities.
Formerly a British fort, the city centre is compact and can easily be explored on foot. There are a number of attractions, such as the East London Museum that houses the prehistoric coelacanth and the city hall, that should not be missed. It is best for visitors to have a car so that they can access various attractions dotted on the outskirts such as Steve Biko's grave, the aquarium, the harbour - which is the only river port in the southern hemisphere - and the superb seafood restaurants that line the beachfront.
East London is not generally considered a travel destination in its own right, but the nearby Wild Coast is one of South Africa's most stunning scenic areas. It takes only 20 minutes to get from the bustle of this small city to one of the tranquil and isolated holiday villages on the coast where rolling hills of indigenous vegetation are met by long expanses of untouched beaches. Here visitors can go horse riding on the shore, visit the Gonubie Nature Reserve that has over 150 different bird species or stay at the Inkwenkwezi Private Game Reserve where the remarkable Big Five can be seen.
East London is a sunny city that experiences hot summers and moderate winters. Temperatures in summer, between December and February, can reach over 86°F (30°C) and rainfall usually comes in the spring and autumn months.
Become our East London Travel Expert
We are looking for contributors for our East London travel guide. If you are a local, a regular traveller to East London or a travel professional with time to contribute and answer occasional forum questions, please contact us.