Kimberley Travel Guide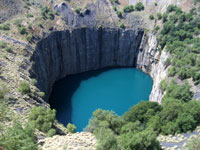 Big Hole ©
Capital of the Northern Cape Province, Kimberley is best known for its Big Hole, a legacy from the diamond rush in the area in 1871. Kimberley began as a town named New Rush, which formed around the hill where a 83.50 carat (16.7g) diamond was found; as miners arrived in their thousands the hill gradually disappeared and became known as the Kimberley Mine or 'Big Hole', the largest hand-dug excavation in the world. The Big Hole reached a depth of 787ft (240m) and yielded three tons (2,722kg) of diamonds until its closure in 1914.
The growing metropolis became the first city in the southern hemisphere to install electric street lighting and was home to the country's first stock exchange and flying school. Kimberley's prosperity has continued into the 21st century and the thriving city is rich in history. Most of the city's opulent lifestyle and characteristic Victorian architecture can be seen in the historical suburb of Belgravia, and it also offers visitors many museums as well as one of South Africa's most important art galleries. Kimberley's biggest attraction is still the Big Hole, however, and visitors can visit the informative museum, which recounts the tale of the diamond rush and offers an insight into the lives of those who lived and worked in the area.
Become our Kimberley Travel Expert
We are looking for contributors for our Kimberley travel guide. If you are a local, a regular traveller to Kimberley or a travel professional with time to contribute and answer occasional forum questions, please contact us.
Africa Miracles specialises in tailor-made holidays to South Africa. Travel to the website and find information on South Africa and suggested itineraries.
ADVERTISEMENT
---
iExplore designs made-to-order, privately-guided adventure safaris to South Africa and 200 other world wonders. Come Back Different!
ADVERTISEMENT
---
Intrepid Travel, one of the world's leading suppliers of small group adventures focused on getting off the beaten track, interacting with the locals and having real life experiences throughout South Africa.
ADVERTISEMENT
---