Pretoria Travel Guide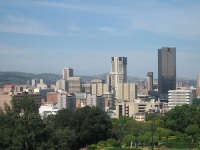 Pretoria © girolame
Pretoria is affectionately known as the Jacaranda City due to its profusion of purple-coloured trees that blossom in spring. It is located 56 miles (90km) from Johannesburg, although this drive can take up to two hours in the infamous traffic between the two cities. Pretoria is South Africa's administrative capital and one of the country's more attractive cities, its relatively green and picturesque urban centre forming a stark contrast to its much more chaotic neighbour of Johannesburg.

Pretoria was founded in 1955 and named after Andries Pretorius, the boer leader at the Battle of Blood River where the Voortrekkers defeated the Zulus under King Dingaan. But since 1994, the city's Jacaranda tree-lined streets are better known as the administrative capital of South Africa, and as home to the iconic Union Buildings where Nelson Mandela was sworn in as the country's first democratically elected president.

Pretoria may not be one of South Africa's most popular tourist destinations, but it makes a fantastic base for a multitude of sightseeing opportunities. Offering some unique attractions such as the historic Voortrekker Monument, the South African National Zoological Gardens, one of the world's first-class zoos, and the nearby town of Cullinan where the discovery of the world's largest diamond took place, Pretoria offers visitors a unique glimpse into a city brimming with history and simultaneously embracing its cultural changes.
Become our Pretoria Travel Expert
We are looking for contributors for our Pretoria travel guide. If you are a local, a regular traveller to Pretoria or a travel professional with time to contribute and answer occasional forum questions, please contact us.
Africa Miracles specialises in tailor-made holidays to South Africa. Travel to the website and find information on South Africa and suggested itineraries.
ADVERTISEMENT
---
iExplore designs made-to-order, privately-guided adventure safaris to South Africa and 200 other world wonders. Come Back Different!
ADVERTISEMENT
---
Intrepid Travel, one of the world's leading suppliers of small group adventures focused on getting off the beaten track, interacting with the locals and having real life experiences throughout South Africa.
ADVERTISEMENT
---