Charleston Travel Guide
Why? To holiday in Charleston is to travel back in time to the Old South. This lovely city has preserved the ambience and distinctive architecture of its colonial past. Those who travel to Charleston will leave with a better understanding of the historic slave trade and the Civil War (the first shots in the war were fired here at Fort Sumter), and plenty of unique souvenirs picked up at the popular riverside market.
When? The best time to travel to Charleston is during Spring, when the city is in bloom and the weather is dry, warm and sunny. Most rain falls during the Summer months, when thunderstorms are common; during Autumn there is the threat of hurricanes; while Winter is short, but chilly.
Who for? A holiday in Charleston is for those who enjoy sight-seeing and soaking up history in a laid-back manner, whether in a horse-drawn carriage or on a walking tour. A Charleston holiday is educational and fun for children.
More Info: Our Charleston travel guide is updated daily to provide current information on all aspects of a holiday in Charleston, from the top attractions and excursions to how to use the bus service.
---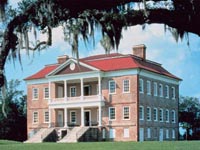 Drayton Hall, Charleston © Charleston CVB
Charleston is one of the loveliest cities in the country, despite having weathered great fires, earthquakes, epidemics, civil war and a devastating hurricane. It is consistently classed among the most elegant and dignified cities nationwide. Situated on the peninsula at the confluence of the Cooper and Ashley Rivers on South Carolina's Atlantic coast, the colonial port of Charleston is the oldest city in the state, filled with brick and cobblestone streets, and a large downtown district boasting thousands of carefully preserved and restored buildings that house old-fashioned inns, antique shops and pubs. The streets are lined with tall, narrow houses festooned with wrought iron balconies and wooden shutters, ornate iron gates enclosing pretty gardens and shaded porches - the timeless features of southern architecture. Many of its double-storey houses are authentically furnished museums that once belonged to wealthy colonial merchants, while many are still the beautiful private homes of wealthy residents.
The city started as an important seaport serving the rice and cotton plantations throughout the region, and it was a major slave-trading centre with a third of America's slaves being bought and sold at the riverfront market. The Gullah culture of the islands (people of West African ancestry speaking a language based on English with elements from several African dialects) have a tangible presence here, especially at the Old City Market that vibrates with the humming of traditional spirituals, as basket ladies sell their hand-woven grass wares among the local vendors and iron makers, and the distinctive sound of the Gullah dialect fills the air.
Become our Charleston Travel Expert
We are looking for contributors for our Charleston travel guide. If you are a local, a regular traveller to Charleston or a travel professional with time to contribute and answer occasional forum questions, please contact us.