United States of America

---

---

---

---
Grand Strand And Myrtle Beach Travel Guide
Grand Strand And Myrtle Beach travel Forum
---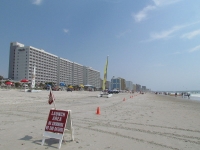 Myrtle Beach © Hlecroy
The 60 miles (97km) of white sand stretching along South Carolina's coastline, from Little River to Georgetown, is known as The Grand Strand. Peppered with beach resorts and seaside communities, the main hub of activity is centred on Myrtle Beach. However, all along The Grand Strand visitors can enjoy the sea, sun and surf, as well as excellent seafood, shopping malls, amusement parks and numerous family-orientated activities, shipwreck diving, museums, and more than 100 championship golf courses.
Myrtle Beach lies at the centre of the Grand Strand, a glitzy stretch of uninterrupted commercial development that has transformed the city into a mega entertainment centre and family resort. Beach towels and brightly coloured beach wear cover the sand in summer and the population swells with vacationers seeking the fun and thrills offered by the Myrtle Beach Pavilion Amusement Park, with funfairs, waterslides, arcades and shopping. Myrtle Beach State Park offers nature trails, camping, fishing and swimming when the bright lights and non-stop entertainment wear thin.
At the southern end of the Grand Strand lies Georgetown, which has a pretty historic district and a restored waterfront that buzzes with activity. During colonial times it boasted a rich plantation culture and was the centre of America's rice empire. A number of plantation estates can still be visited in the area.
A popular excursion from The Grand Strand is a visit to the collection of islands that dot the coastline. The Sea Islands make up more than half of the South Carolina coastline, separated from the mainland by estuaries and marshes. These islands are traditionally home to black communities descended from slaves, who were brought to the Carolina's during the 18th century. When they were freed by the Union army in 1865, the slaves were granted land here. They are known as Gullah people, having maintained their dialect, heavily influenced by several different African languages, and much of their culture has also been preserved. During the colonial period, at the height of the rice culture, slaves from West African rice kingdoms were in high demand among the plantation owners, as they could teach their masters how to plant, grow and cook rice.
Become our Grand Strand And Myrtle Beach Travel Expert
We are looking for contributors for our Grand Strand And Myrtle Beach travel guide. If you are a local, a regular traveller to Grand Strand And Myrtle Beach or a travel professional with time to contribute and answer occasional forum questions, please contact us.