United States of America

---

---

---

---
Black Hills Travel Guide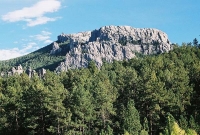 Black Hills © BHrock
Home to the tallest peaks east of the Rockies, the Black Hills are part of the western region of South Dakota, an area with endless monuments and parks, most popular with visitors. Blessed with towering peaks, blankets of forests and meandering rivers, Black Hills is a pristine haven for fishing, biking, hiking, camping and rock climbing as well as sightseeing. Native Americans have inhabited the area since 7000 BC, making the Black Hills a region of spiritual and historical significance. Ownership of land passed through the hands of many Indian tribes, resting with the Lakota who still reside there today. The setting of the last Indian War between the Lakota, enterprising gold miners and the United States, ownership of the Black Hills is still a contested topic today.
The diverse geology of the Black Hills as well as its abundance of indigenous flora and fauna is what attracts visitors each year. In Badlands National Park, erosion has created a terrain of desolate beauty, with sharp buttes, twisting spires and deep gorges. It is also one of the world's richest fossil beds. In Jewel Cave, the third longest cave in the world, visitors can explore miles of underground passageways with stunning rock formations. Scenic drives through Custer State Park offer amazing encounters with the once-endangered bison, now flourishing in free-roaming herds.
Black Hills is also the setting for the popular HBO series Deadwood, which is in fact filmed in California. The City Fathers of Deadwood have created a false wooden street front based on the original town and similar to the one on the television series. But for more mammoth attractions, Black Hills is also home to one of America's famous landmarks, Mount Rushmore and the Crazy Horse Memorial, the world's largest sculpture, on which work has been underway since 1948.
Become our Black Hills Travel Expert
We are looking for contributors for our Black Hills travel guide. If you are a local, a regular traveller to Black Hills or a travel professional with time to contribute and answer occasional forum questions, please contact us.