Busan Travel Guide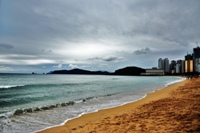 Haeundae Beach ©
Home to some of South Korea's most popular beaches, hot spring resorts and numerous other historical attractions, Busan is an integral part of any trip to South Korea. Busan, formerly known as Pusan, is the largest port and the second largest city in South Korea and is a quick three hour KTX (bullet train) trip south of Seoul. Busan often goes unnoticed as visitors flock to get a taste of the bright lights and big city feel of Seoul, but Busanites and many other Koreans will tell you that Busan is one of South Korea's friendliest and most relaxed cities.
From beaches to mountains and temples Busan has many attractions on offer. Some of the city's principal attractions include the beautiful Haeundae and Gwangalli Beaches. The Busan Aquarium also features as a fun attraction in Busan. Visitors interested in temples and historical sights can visit the Beomeosa and Yonggungsa temples as well as the Geumjeong Fortress. The markets in Busan are also an attraction in and of themselves. They offer wonderful photographic opportunities and can sometimes be a real eye-opener, particularly Jagalchi Fish Market. Visitors to the city during summer should try and include trip to one of the local baseball games on their Busan itineraries. The local team, the Lotte Giants, is based at Sajik stadium and a baseball game in Korea is a cultural experience in and of itself. Baseball games are held every weekend during summer. Busan also has great shopping, eating and sightseeing opportunities. Visitors to the city will find that this seaside city has a lot of heart and may even prove to be the highlight of a trip to South Korea.
Become our Busan Travel Expert
We are looking for contributors for our Busan travel guide. If you are a local, a regular traveller to Busan or a travel professional with time to contribute and answer occasional forum questions, please contact us.