Gyeongju Travel Guide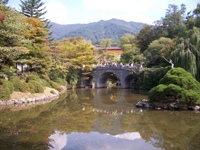 Bridge at Bulguksa Temple © adam nicholson
Gyeongju was the original capital of ancient Korea. The city is built around old palaces, temples and burial mounds. Gyeongju is one of the most important historical areas in South Korea and has been declared a UNESCO World Heritage district. As such a walk around the small city of Gyeongju is often compared to walking through an open-air museum. For visitors interested in the rich and fascinating history of Korea, spending a few days in Gyeongju is one of the most popular things to do in South Korea.
The best time to visit Gyeongju is during spring or autumn. In spring many of the cherry trees planted throughout the town are in bloom which makes for an exceptionally scenic tour of the area. There are also extensive flower fields on the outskirts of Gyeongju which are particularly spectacular during spring. Autumn is the perfect time to enjoy the forested areas as the foliage changes colour.
Gyeongju National Museum is the ideal start to any exploration of Gyeongju. Visitors to the museum can find out more about the city and the historical sights scattered throughout the area. From there visitors should head to any one of Gyeongju's many attractions in the centre of town, such as the spectacular Cheonmachong Tombs and burial mounds in Tumuli Park. At first the ancient tombs appear to be perfectly rounded hillocks scattered throughout the park; it is only on closer inspection that visitors see that they are in fact tombs rather than hills. The ancient Cheomseongdae Observatory is the oldest astronomical observatory in Asia.
Further afield you will find Bulguksa Temple, the ancient Seokguram Grotto, and Yangdong Village. Bulguksa is one of South Korea's most spectacular temples and definitely worth a visit. Tohamsan or Toham Mountain is home to both Bulguksa and Seokguram Grotto. The Grotto contains arguably some of the finest Buddhist sculptures in the world. Both Seokguram and Bulguksa are UNESCO-listed sites. The tranquil Anapji pond is the perfect place to end a day spent exploring the treasures of Gyeongju.
Getting to Gyeongju i is relatively easy as the city is an hour away from the city of Daegu on the KTX express train route. Buses to Seoul and Busan depart from Gyeongju fairly regularly throughout the day. Getting around Gyeongju is also a breeze: visitors can hire a moped or a bicycle, or make use of the sightseeing busses which make regular trips between all of Gyeongju's principal attractions.
Become our Gyeongju Travel Expert
We are looking for contributors for our Gyeongju travel guide. If you are a local, a regular traveller to Gyeongju or a travel professional with time to contribute and answer occasional forum questions, please contact us.