Bilbao Travel Guide
Why? At first glance there is not much to be gained from a holiday in Bilbao, the rather drab Basque city in northern Spain, home to a million people. However, Bilbao is on a mission to attract tourists and does offer several worthy attractions, not least of which is the fantastically designed Guggenheim Museum, recently celebrating its tenth anniversary. Bilbao is also the gateway to some popular resorts on the Bay of Biscay, and the legendary town of Pamplona with its annual running of the bulls festival.
When? Bilbao has a mild climate, and in common with the rest of Spain the best time to travel to Bilbao is during the Summer months, when it is warm and dry, the green hills around the town offering a good alternative to the intense heat of the south of the country.
Who for? Anyone visiting Spain would not go amiss to set aside a few days for a holiday in Bilbao, to visit the museums and experience the Basque culture of this northern city.
More Info: Travellers to Bilbao can find out all they need to know before they go by consulting our full Bilbao travel guide, which gives a comprehensive overview of what to expect in this Spanish city, and a host of useful information for planning a Bilbao holiday.
---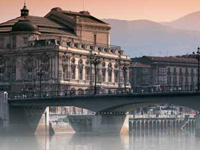 Bilbao © Turespaña
The industrial port-city of Bilbao is the political capital of the nationalistic Basque people, who inhabit Spain's three northern provinces (an area known collectively as Euskadi). The city is not beautiful - the buildings are soot-stained and the Nervion River running through it is one of Spain's most polluted waterways - but Bilbao does have some surprises to offer visitors, and there are plenty of attractions in the surrounding countryside and around the coast on the Bay of Biscay, which can be easily reached on excursions by rail or road.
The main attraction in the city is the controversial Guggenheim Museum, relatively new on the scene, having been opened in 1997. The city fathers regard this avant-garde building as the beginning of Bilbao' revitalisation, which has also recently acquired a new metro system and airport terminal. Bilbao has some good beaches and a few scenic spots - a favoured picnic site is on Monte Archanda, north of the old town, accessible by funicular. Of the beaches Getxo is the favourite, particularly with surfers, and features a 100-year-old suspension bridge and some lively bars and nightclubs.
Become our Bilbao Travel Expert
We are looking for contributors for our Bilbao travel guide. If you are a local, a regular traveller to Bilbao or a travel professional with time to contribute and answer occasional forum questions, please contact us.
Intrepid Travel, one of the world's leading suppliers of small group adventures focused on getting off the beaten track, interacting with the locals and having real life experiences throughout Spain.
ADVERTISEMENT
---