Madrid Travel Guide
Why? Art and nightlife are the two main reasons to choose a holiday in Madrid, Spain's energetic capital city. The city's art galleries (including the renowned Prado) contain so many great artworks anyone would be hard put to see them all even in many Madrid visits, while the bars and discos rock till the small hours.
When? The sky above Madrid is usually always blue, brushed with puffy white clouds. There is a big temperature variation between winter and summer to take into account when planning a Madrid holiday however. The altitude means blistering summers and freezing winters, so the best time to travel to Madrid is during the more temperate shoulder seasons of spring and autumn.
Who for? Art lovers of course are the main category of travellers who will revel in a holiday in Madrid, but the city has something to offer anyone who enjoys exploring the world's great capitals, from parks to flea markets, grand museums to tiny taverns.
More Info: The sprawling city of Madrid can be daunting, so it is wise to plan carefully before you head off for a Madrid holiday. Print off our comprehensive Madrid travel guide, containing all the information you need to ensure you make the most of your holiday in Madrid.
---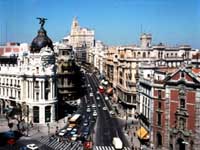 Gran Via, Madrid © Spanish Tourist Board
Madrid may be lacking in architectural beauty compared with other major Spanish cities, but it makes up for this with its boundless energy, blue skies, art, culture and some of the most exhilarating and exhausting nightlife in Europe. The city is compact and easy to navigate on foot - most of the sights of interest are found in the downtown area between the Royal Palace and Parque del Retiro.
The capital of Spain since 1562, Madrid sits in the geographic centre of the Iberian Peninsula and has long been an important stop on any art tour through Europe. The famous Museo del Prado on the city's 'Museum Mile' houses important works by Spanish and European masters from the Renaissance onwards, while the Museo Thyssen-Bornemiza houses one of the most extensive private collections in the world. The Museo Nacional Centro de Arte Reina Sofia is devoted to 20th century Spanish art, with works by Miro, Dali and Picasso.
Visitors wishing to take a break from all that art may want to see the Plaza de Toros, Spain's largest bullring, where regular bullfights are still held. Sports fanatics who like something a little less bloodthirsty can watch Real Madrid, or Atletico Madrid, two of Spain's most famous football teams kick off.
The city sits atop a plateau and is the highest capital in Europe, making its climate somewhat extreme with steaming hot summers and bitterly cold winters. Spring is the best time to visit and explore the squares and alleyways in the heart of this crowded city.
Become our Madrid Travel Expert
We are looking for contributors for our Madrid travel guide. If you are a local, a regular traveller to Madrid or a travel professional with time to contribute and answer occasional forum questions, please contact us.
Intrepid Travel, one of the world's leading suppliers of small group adventures focused on getting off the beaten track, interacting with the locals and having real life experiences throughout Spain.
ADVERTISEMENT
---