Resorts

---

---

---

---

---

show more Resorts
Mallorca Travel Guide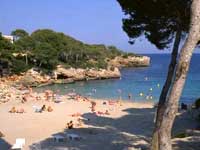 Cala Esmeralda, Cala d'Or © Spanish Tourist Board
The island of Mallorca (Majorca) off the east coast of Spain is the largest in the Balearic Island group, which collectively form one of the most popular holiday destinations in the Mediterranean (if not the world).
Mallorca took off as a tourist mecca in the 1960s, when a development boom spawned the building of hundreds of high-rise hotels, apartment blocks and shopping centres which now line most of the island's coast. The capital, Palma, however still retains some of its historical flavour sporting grand mansions and a magnificent Gothic cathedral in its bustling centre. The northwest coast, too, still offers some secluded coves below the peaks of the Serra de Tramuntana mountain range, and several quaint old towns and villages.
If you visit Mallorca for the sun and fun, it is worth taking a break from the beach resorts and heading off for a tour of the island by car, or even bicycle, to discover the romantic fishing villages, historic monasteries, monuments, museums and spectacular landscapes tucked away from the madding crowds. The interior is largely the preserve of a thriving agricultural community, dotted with windmills, olive and almond trees.
Become our Mallorca Travel Expert
We are looking for contributors for our Mallorca travel guide. If you are a local, a regular traveller to Mallorca or a travel professional with time to contribute and answer occasional forum questions, please contact us.
Intrepid Travel, one of the world's leading suppliers of small group adventures focused on getting off the beaten track, interacting with the locals and having real life experiences throughout Spain.
ADVERTISEMENT
---