Resorts

---
Minorca Travel Guide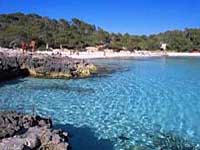 Cala Turqueta, Minorca © Turespaña
Despite its popularity as a holiday mecca, the Balearic Island of Minorca remains one of the loveliest, most unspoilt islands in the Mediterranean. The local population support the control of resort development and the woodlands and fields of its hilly rural interior remain largely untouched. This is the result of a thriving local industry that is less dependent on tourism for its survival than the other islands are.
Minorca is only nine miles (15km) wide and about 32 miles (52km) long, and boasts stretches of varied beaches, from silver-sanded gently curving bays to rocky inlets. Aside from beaches and resorts the island also has plenty of interest for history buffs and culture vultures, with several attractions to experience, including a world famous pipe organ and several mysterious prehistoric archaeological sites related to the second millennium BC Talayot culture.
The more recent history of the island is a saga of British, French and Spanish attempts at control and colonisation, each of which have left their influence on the local culture and architecture.
Become our Minorca Travel Expert
We are looking for contributors for our Minorca travel guide. If you are a local, a regular traveller to Minorca or a travel professional with time to contribute and answer occasional forum questions, please contact us.
Intrepid Travel, one of the world's leading suppliers of small group adventures focused on getting off the beaten track, interacting with the locals and having real life experiences throughout Spain.
ADVERTISEMENT
---