Santiago De Compostela Travel Guide
Santiago De Compostela travel Forum
---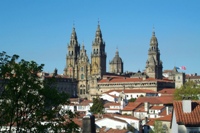 Santiago de Compostela Cathedral © ReservasdeCoches
The small city of Santiago de Compostela is a big destination for the hundreds of thousands of pilgrims that trek there every year along The Way of St James. Santiago de Compostela is located in the northwestern corner of Spain in the autonomous community of Galicia and is a designated UNESCO World Heritage Site. While it represents the culmination of many a spiritual journey, the town has a lot more to offer than just an end point for pilgrims. The spectacular and awe-inspiring Roman Catholic cathedral, and burial place of St James, in the centre of town is a showstopper. Other sights of interest throughout the small Galician town include the Cathedral Museum, Pilgrimage Museum, Museum of Galician People, Galician Centre of Contemporary Art, the Praza do Obradoiro, the Rajoy Palace and Praza de Quintana (Quintana Square).
The cathedral's history is particularly interesting, having passed from Christian to Moorish and back to Christian occupation between 1060 and 1211; however, the grave of St James, beneath the cathedral, remained untouched throughout this period. The Cathedral Museum provides visitors with interesting stories about the cathedral and cloisters, and the Pilgrimage Museum provides a fascinating account of the history of the Way of St James as well as maps of the various routes available.
The Museum of Galician People is situated just beyond the city's walls and displays a selection of traditional crafts and folklore items. Visitors to the Galician Centre of Contemporary Art will be impressed with the selection of pieces by Galician artists and a selection of temporary or travelling exhibitions. Praza de Obradoiro and Quintana Square (Praza de Quintana) are located beside the cathedral, and offer numerous photo opportunities. The Rajoy Palace is a neo-classical four-storey building located on Praza de Obradoiro, the ground floor consists of elegant arched walkways while the upper floors are used as the parliament buildings for the Galician Regional Government.
Santiago de Compostela is a city that needs to be walked and the easiest way to get around Santiago de Compostela is on foot. As thousands of pilgrims make their way to the central cathedral, thousands more walk through the city getting to know its streets and quaint alleyways lined with family owned and run shops, boutiques and delicatessens. Some of the best areas to walk, people watch and shop in Santiago de Compostela are Zona Vella (the Old District), for exquisite ceramic souvenirs, Zona Nova (the New District), for clothes and other brand name items, and Area Central in Fontinas for more fashion shops and grocery stores. The city has a cheap and efficient bus service and taxis are also available, but they are expensive and not really necessary.
Eating out in Santiago de Compostela is a gastronomic dream. Galician food is very different from the usual paellas and pasta dishes that you find throughout the rest of Spain. Most Galician delicacies and favourites are influenced by the region's long coastline. Galician restaurants serve a lot of fish, shellfish and crustaceans, with vegetables on the side. The regional dish of Galicia is a dish called pulpo - cooked octopus served on a bed of boiled potatoes with a drizzle of olive oil and a dash of Spanish paprika. Galicia also has a fair amount of well-known wines, but visitors to Santiago de Compostela will find that some of the best wines in the region are made and bottled individually by farmers. Orujo de Galicia is a fiery spirit mixed with cherries, sherry and sugar and then set on fire and downed by revellers and unwitting tourists. Visitors to Santiago de Compostela will find plenty of restaurants and tapas bars in the Old Quarter.
Santiago de Compostela is ideal for visitors to Spain who want to experience something different. It may not be off the beaten track - in fact it is the culmination of thousands of well-trodden paths - yet the town has retained an aura of spirituality and mystique that can only enrich a Spanish tourist experience.
Become our Santiago De Compostela Travel Expert
We are looking for contributors for our Santiago De Compostela travel guide. If you are a local, a regular traveller to Santiago De Compostela or a travel professional with time to contribute and answer occasional forum questions, please contact us.