Resorts

---

---

---

---

---

show more Resorts
Tenerife Travel Guide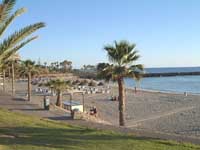 Playa de las Americas, Tenerife © canaryforum
If there is any spot on the globe that enjoys a perfect climate, Tenerife in the Canary Islands is it. There is markedly little variation in the average temperatures between summer and winter, which hover between 59ºF and 75ºF (15-24ºC), and there is only very occasional rain. Throw this in to a mix of verdant forests in the northern part of the island as well as mountains, deserts, volcanoes, exotic plant and animal life, and spectacular beaches (with black volcanic sand) - and you have a true holiday paradise.
Tenerife offers the unique experience of swimming and sunbathing on a beautiful beach while just a few miles away snow sparkles on the crest of Mount Teide. The island's central mountain stands at 12,200 feet (3,719m), the highest in Spain, and a cable-car ride to the summit offers unrivalled views of the lunar-like landscape of the volcanic slopes.
The island's capital, Santa Cruz de Tenerife, is an upbeat town geared for tourism. Its port, where once the first shots of the Spanish Civil War were fired, is today a morass of ferries, jetfoils and freighters.
Become our Tenerife Travel Expert
We are looking for contributors for our Tenerife travel guide. If you are a local, a regular traveller to Tenerife or a travel professional with time to contribute and answer occasional forum questions, please contact us.
Intrepid Travel, one of the world's leading suppliers of small group adventures focused on getting off the beaten track, interacting with the locals and having real life experiences throughout Spain.
ADVERTISEMENT
---