Valencia Travel Guide
Why? Holidaymakers travel to Valencia for the time of their lives. A holiday in Valencia offers everything to suit all tastes, from beautiful beaches right on the doorstep, to a host of museums, art galleries, wild nightlife, a full calendar of exciting festivals and historic attractions.
When? The traditional time for a Valencia holiday is during the hot summer months, when the streets buzz with visitors and activities of all sorts. With its warm climate, however, it is possible to travel to Valencia at any time of year and be assured of sunshine, and many prefer to enjoy the city out of season when it is quieter, although never dull. March, during the famed Fallas Festival, is a good time for party-animals to visit.
Who for? A Valencia holiday is for anyone and everyone who enjoys a good time and fun in the sun.
More info: There is so much to see and do on a Valencia holiday, so it is wise to plan your trip in advance so as not to miss out on any of the action. Use our full Valencia travel guide to find out where to go, what to see and when the major events take place.
---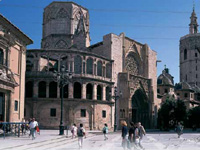 Valencia © Turespaña
Valencia was founded by the ancient Romans in 137 BC and has been pillaged, burned and besieged numerous times by various conquerors over the centuries since, but vivacious Valencia has nevertheless sailed into the second millennium as Europe's quintessential sophisticated modern holiday city, a favoured location for the America's Cup yacht race. Situated on the Mediterranean coast about four hours south of Barcelona, Valencia is spread out around its busy port and backed by hills which give way to the plains of Aragon.
Valencia oozes traditional character, particularly in its old town (El Carmen), and has retained its cultural heritage not only in the form of medieval architecture but also in its quirky, exuberant festivals (like the Battle of the Flowers, the fireworks of Fallas and even one dedicated to tomato-hurling). The Valencians even have their own language. Amidst the old, however, Valencia has very much that is new, including its major attraction, the ultra-modern City of Arts and Sciences, which draws around four million appreciative visitors each year.
Outdoors, it is hard to beat the golden beaches which fan out from the port along the coast, and the sprawling city offers plenty of green parks for strolling, cycling or simply lolling on a bench to get your breath back after indulging in the vibrancy of the city. Football is also a local passion, and fans should not miss the atmosphere at one of the carnival-like Valencia FC home matches.
When night falls, dine on paella, which originated here, and then hit the town, because Valencia is renowned for its lively collection of bars and clubs. It may sound clichéd, but Valencia does indeed fit the bill as a holiday city that 'has it all'.
Become our Valencia Travel Expert
We are looking for contributors for our Valencia travel guide. If you are a local, a regular traveller to Valencia or a travel professional with time to contribute and answer occasional forum questions, please contact us.
Intrepid Travel, one of the world's leading suppliers of small group adventures focused on getting off the beaten track, interacting with the locals and having real life experiences throughout Spain.
ADVERTISEMENT
---