Colombo Travel Guide
Why? Most who holiday in Colombo do so for a short time on their way to or from one of the beautiful Sri Lankan beach resorts, because the capital city with its frenetic traffic and general chaos is a little too much for most to handle. Colombo is, however, worth a look, offering colour and some interesting attractions, like the national museum, the Pettah bazaar and some lovely temples. People who travel to Colombo also enjoy the Galle seafront and delicious local cuisine.
When? No matter what time of year you choose to travel to Colombo the weather will be hot and humid. It is probably wisest to avoid the monsoon rains, however: these happen between May and August, and October and January.
Who for? Sri Lanka is currently a high terrorism risk area, and although to date tourists have not been targeted, a holiday in Colombo is probably not for the faint-hearted.
More Info: For those who plan to travel to Colombo, safety is of paramount importance and it is wise to be clued up on the local situation before you go. Consult our comprehensive, updated Colombo travel guide for health and safety information, as well as listings of attractions and excursions.
---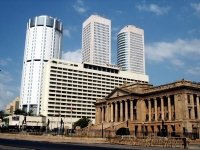 Colombo © Nicke L
A pretty metropolis sounds like a contradiction in terms, but it is a description that fits Colombo, Sri Lanka's largest city, a beehive of commotion with more than a million inhabitants.
Frenetic traffic fills the main Galle Road that runs through the city from the district of Fort, parallel with the coast, connecting all the suburban enclaves down to the town of Galle in the south. Fort is the historic centre of the city that has become the main business district, filled with shops, office blocks and government buildings. It is here that most of the gracious old buildings from the Dutch, Portuguese and British colonial eras are to be seen. East of Fort is the exciting Pettah bazaar district, where the streets are crammed with shops and stalls selling all manner of goods from vegetables to gemstones. Further south the city's seafront is known as Galle Face Green, where locals enjoy games of cricket, fly kites or take evening strolls watching the sunset. Beyond this lies Colombo's smart neighbourhood, Cinammon Gardens, boasting elegant mansions, tree-lined streets and the lovely Viharamaha Devi Park. The closest beach resort to the city is Mount Lavinia, about six miles (10km) from the city.
Main tourist attractions include museums, historic buildings and churches, and beautiful parks. What is especially enjoyable is the variety of cuisine that can be sampled at any one of the city's plentiful bars, restaurants, sidewalk cafes and kiosks.
Become our Colombo Travel Expert
We are looking for contributors for our Colombo travel guide. If you are a local, a regular traveller to Colombo or a travel professional with time to contribute and answer occasional forum questions, please contact us.
Intrepid Travel is one of the world's leading suppliers of small group adventures focused on getting off the beaten track and having real life experiences in Sri Lanka.
ADVERTISEMENT
---