Matara Travel Guide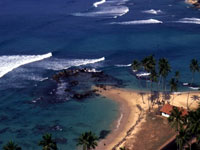 Hikkaduwa Beach © Sri Lanka Tourist Board
Matara is the largest town on Sri Lanka's popular south coast, and the end of the railway line from Colombo. Today it is a quiet town, but in past centuries was a thriving port central to the spice and gem trade with the East and Holland.
Matara was originally established on a narrow peninsula in the estuary of the Nilwala River, which was fortified by the Dutch. The original walls still stand, containing some rather dilapidated old buildings dating from the Dutch colonial era. The town also contains a number of beautiful temples, including the enormous Buddha of the Weherahena Temple; and the oldest and most beautiful lighthouse in Sri Lanka, located at Point Dondra.
Matara was severely damaged by the 2004 tsunami, however the city is still bustling and there are plenty of interesting markets and shops, as well as some good restaurants.
Matara is scenically attractive, surrounded by paddy fields and tea estates on the fertile river floodplain. The area also boasts some sandy, safe beaches with coral reefs good for snorkelling (although hungry crocodiles mean swimmers should stay out of the Nilwala River). These assets have ensured that the town is a popular tourist destination removed from the trouble spots in the north of the island, where civil unrest remains a threat.
Become our Matara Travel Expert
We are looking for contributors for our Matara travel guide. If you are a local, a regular traveller to Matara or a travel professional with time to contribute and answer occasional forum questions, please contact us.
Intrepid Travel is one of the world's leading suppliers of small group adventures focused on getting off the beaten track and having real life experiences in Sri Lanka.
ADVERTISEMENT
---