St Maarten And St Martin

---

---

---

---

---

---

---
Philipsburg Travel Guide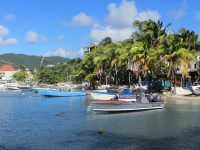 Philipsburg © Jorge Brazil
Philipsburg is the capital of Dutch St Maarten and the only town of consequence on the island. It has two main streets, Front Street (Voorstraat) and Back Street (Achterstraat), connected by several bustling thoroughfares, and filled mainly with duty-free shops, cafes, hotels and courtyards overflowing with flowers.
The town has an unusual setting, sitting on a narrow stretch of land between Great Bay, on the south coast of the island, and the Great Salt Pond (a huge marsh). It is the port of call of hundreds of cruise ships, filling the primary need of the day-tripping passengers who come ashore to shop for everything from Italian leather goods and Japanese cameras to native crafts. Philipsburg's nightlife is regarded as among the liveliest to be found in the Caribbean.
Architecturally the town, founded in 1763 by John Philips (a Scots captain in the Dutch navy), is quaint, with characteristic pastel-coloured West Indian houses lining the streets, and a few Dutch colonial landmarks, including Fort Willem, built in 1801, and Fort Amsterdam, constructed nearly 200 years earlier.
Become our Philipsburg Travel Expert
We are looking for contributors for our Philipsburg travel guide. If you are a local, a regular traveller to Philipsburg or a travel professional with time to contribute and answer occasional forum questions, please contact us.