St Kitts And Nevis

---

---

---

---

---

---
What to see in Nevis
Nevis Attractions
With very little commercial development and resorts, Nevis is attractive to travellers because it remains a sleepy and unspoiled Caribbean island. Hikers follow trails to a number of scenic views, pristine waterfalls, jungle ravines, and long stretches of beach. A climb up volcanic Mount Nevis takes about four hours.
Those wanting to experience the wealth of local flora without exhausting themselves can simply visit the Nevis Botanical Garden, which is one of the island's most popular attractions and features hundreds of exotic tropical plants, both indigenous and from further afield.
Visitors interested in the plantation culture of yore will see old ruins dotted all over the island. Two of the best places to see the remains of historic buildings are the Montpelier Plantation Inn, once the site of Montpelier House, where Horatio Nelson married Frances Nisbet in 1787, and the New River Estate, which was the last sugar mill to shut down on the island, remaining operational until 1958.
The capital of Charlestown is devoid of fast food chains and boasts some historic remnants of colonialism. Despite the scattered Edwardian buildings and old churches, not much sightseeing is really possible in Charlestown. Yet Hamilton House, housing the Museum of Nevis, is worth a visit.
---
Oualie (pronounced wah-lee), meaning 'beautiful waters', was the original name of the island of Nevis, and the pretty stretch of sand known as Oualie Beach lives up to its name. Located on…

read more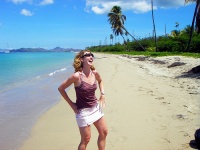 Pinney's Beach is one of the best beaches in the Caribbean. The epitome of paradise, its fine white sands are backed by palm trees and lapped by calm Caribbean waters. Lying within convenient distance…

read more
Become our Nevis Travel Expert
We are looking for contributors for our Nevis travel guide. If you are a local, a regular traveller to Nevis or a travel professional with time to contribute and answer occasional forum questions, please contact us.