St Kitts And Nevis

---

---

---

---

---

---
Nevis Travel Guide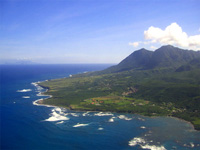 Nevis © Aaron Vos
Once named both Dulcina - 'Sweet Island' - and Oualie - 'land of beautiful waters' - Nevis has always been a paradise to those who lived here, and is a pearl hidden in the Caribbean oyster for those who visit today. Christopher Columbus derived the present-day name of Nevis from his sighting of the island in 1493: the island's cloud-capped volcanic peak reminded him of snow, or 'nieves' in Spanish.
Small and round, Nevis is only about seven miles (11km) long and five miles (8km) wide, an unspoilt and serene island that is a delight for nature-lovers and for those seeking an escape from the stresses of the modern-day world. Its single volcanic peak rises 3,232ft (985m) above verdant rainforest filled with tropical flowers and animals, and the beaches and clear waters that surround the island provide the ideal holiday environment for swimming, sunbathing and underwater exploration.
During the 18th century Nevis gained undreamt-of wealth from its sugar industry and became known as the Queen of the Caribbean sugar islands, with a social life that became as decadent as it was extravagant. Today, grand estate houses and once lavish hotels lie in ruins, and sugar plantations remain untouched as they have been since the decline of the most coveted trade in the Caribbean towards the end of the 18th century.
A sad decline it might have been then, but the charm of its small towns, the genuine hospitality and friendliness of the people, and the laws controlling over-development and natural conservation, are attractions far more endearing to visitors today. Lavish manors have been preserved and rank among the best plantation inns in the Caribbean, and architectural gems and historical relics promise hours of exploration amid the natural splendour that covers the island.
Today, Nevis has a reputation for elegant living, with one of the world's most exlusive resorts and spas, golf courses, a variety of restaurants and bars, and beautiful gardens and beaches. A vacation in Nevis is sure to recharge any traveller's batteries.
Become our Nevis Travel Expert
We are looking for contributors for our Nevis travel guide. If you are a local, a regular traveller to Nevis or a travel professional with time to contribute and answer occasional forum questions, please contact us.